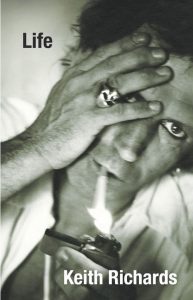 Acaba de hacerse público el documental Keith Richards "Life", emitido el pasado 28 de noviembre de 2010 por la BBC Two, dentro del programa "The Culture Show", presentado por Andrew Graham Dixon, ahora disponible y de un tirón, desde nuestro canal de Dirty Rock YouTube.
El documental, de una hora de duración y dirigido para la BBC por Clare Taverner, fue emitido poco después de publicarse el libro "Life, Keith Richards" (Vida, memorias Keith Richards), en todo el planeta, editado el 26 de octubre de 2010 por Little, Brown and Company y Global Rythm Press en España.
El libro autobiográfico, que ha escrito junto al biógrafo británico James Fox, ha sido Best-Seller en medio planeta. La editorial adelantó al Rolling Stones más salvaje, un pago de 7,3 millones de dólares en 2007. El coautor del libro pasó cientos de horas de entrevistas en las diferentes residencias de Keith Richards en Jamaica, Reino Unido y Connecticut, su residencia habitual.
Documental íntegro de la BBC Two, Keith Richards «Life».
El libro ganó dos importantísimos premios en el 2010, el Audie Awards 2010 en la categoría "Audiobook of the Year and Best Biography/Memoir", el premio Amazon Audiobook of the Year for 2010 y recientemente el Norman Mailer Prize Biography 2011, entregado por el ex presidente norteamericano Bill Clinton.
Johnny Depp, Joe Hurley y Keith Richards participaron en el Audio-Book de 22 horas y media de "Life", además de estar disponible el libro en e-book en formato digital.
Dirty Rock también pone a tu disposición la maravillosa entrevista en la Biblioteca Pública de Nueva York (New York Public Library, NYPL) el 29 de octubre de 2010 a cargo de Anthony DeCurtis, uno de los editores de la revista Rolling Stone.
Tanto el libro como el documental de la BBC y la entrevista en la Biblioteca de Nueva York, muestran al Keith Richards (68 años) más simpático y humano, habla de sus relaciones con sus amigos en The Rolling Stones, de su relación con la heroína, con Gram Parsons, sus padres, sus mujeres y en definitiva, habla de música y de su supervivencia.
En abril se cumplen 50 años en la carretera de la mejor banda de Rock and Roll del mundo, The Rolling Stones, esa lengua del rock que fue diseñada por John Pasche en 1971.
Precisamente el próximo domingo 12 de febrero, Keith Richards estará de nuevo en la palestra, esta vez en la 54ª Edición de los premios Grammy para el premio Best Boxed or Special Limited Edition Package (Edición Limitada Especial de lujo) por su proyecto con los jamaicanos Wingless Angels, en «The deluxe edition of Wingless Angels«, Reggae de muchísimos quilates. Keith Richards ha ganado dos Grammys, ambos en 1994 por Mejor álbum de Rock, The Rolling Stones Voodoo Lounge y mejor vídeo (Short Form) «Love is Strong«, con The Rolling Stones.
Keith Richards pone a disposición de todos sus fans, su sección Ask Keith, en su página web, para preguntarle acerca de su nominación  a los Grammy con The Wingless Angel, aquí tenemos su primera respuesta, a uno de sus fans.

Ladies and Gentlemen, Keith Richards and The Rolling Stones!
This is the Life. Believe it or not I haven't  forgotten any of it. Thanks & praises. (Keith Richards)
Esto es Vida. Aunque os cueste creerlo, no he olvidado nada. Gracias y loas. (Keith Richards)
Dedicado a Jordi Güell, CBII,  Sergio Smoking Stones, IORR.org fans y a todos los amantes de la mejor banda de Rock and Roll del planeta, The Rolling Stones.
Noticias y crónicas de The Rolling Stones en Dirty Rock.
Y también, en Dirty Rock Facebook  puedes leer decenas de noticias relacionada con The Rolling Stones.