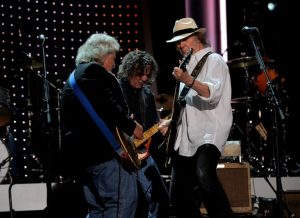 MusiCares, el sindicato de la industria musical estadounidense, celebró el viernes 10 de febrero su fiesta paralela a los Grammy's en la que el premio MusiCares 2012 recayó en Sir Paul McCartney.
La noche y concierto de gala fue presentado por el actor Eddie Izzard y se llevó a cabo en el Los Angeles Convention Center, muy cerca del Staples Center donde tendrá lugar la 54ª Edición de los Premios GRAMMY el domingo 12 de febrero sobre la que Dirty Rock informó, incluyendo vídeos, de las candidaturas más interesantes en las 78 categorías y 38 géneros musicales que se otorgan por votación de los miembros de la academia National Academy of Recording Arts and Sciences.
Artistas como Neil Young & Crazy Horse, Norah Jones, Sérgio Mendes, John Pizzarelli, Joe Walsh, Tony Bennett, Alicia Keys, Diana Krall, James Taylor, Duane Eddy, Cirque du Soleil, Alison Krauss & Union Station y Foo Fighters, Katy Perry, Coldplay y John Clayton formaron parte del evento MusiCares el pasado viernes 10 de febrero, en un abarrotado Los Angeles Convention Center.
Mr. McCartney como invitado de honor y acompañado en todo momento por su esposa Nancy Shevell, presidió un espectáculo irrepetible, ante unas 2.800 personas que abarrotaron la sala de L.A. Convention Center. Sobre todo porque reunía a Neil Young, Billy Talbot, Ralph Molina y Frank "Poncho" Sampedro: Neil Young & Crazy Horse, quienes llevaban casi 8 años sin subirse juntos a un escenario, concretamente desde el Greendale Tour del 2004.
Durante la cena de gala, Neil Young & Crazy Horse se subieron al escenario y tocaron "I Saw Her Standing There". La magia y la adrenalina juntas sobre el escenario, la magia cruda del rock and roll, suciedad, poderío escénico y brillantez; son pocos los apelativos a tal espectáculo, Danny Whitten en los cielos. Neil con el brazo en alto agradecía a Macca y al público asistente la entrega mostrada. Al terminar gritaba ¡¡Paul!!, ante el griterío del público.
Pero vayamos por partes. El pasado miércoles 8 de febrero, Neil Young acompañaba a Paul McCartney al Hollywood Walk of Fame, a unos pocos metros de Capital Records y cerca de las estrellas de George Harrison, John Lennon y Ringo Starr, recibía Sir Paul McCartney la estrella número 2.460, que ésta situada en el 6666 de Hollywood Blvd., entre Whitley y Las Palmas Avenue. Neil Young hacía de maestro de ceremonias los días previos al evento MusiCares del sábado 10 de febrero de 2012, un día que será recordado por muchos fans de Macca en Los Angeles como el Paullywood day!
Neil Portnow, presidente de la National Academy of Recording Arts and Sciences, habló de más de 6.5 millones de dólares recaudados esa noche, dinero que se destinará para el tratamiento médico de músicos sin ingresos, seguros sociales y tratamiento de reinserción, a causa de las drogas y el alcoholismo.
El espectáculo comenzaba con un Paul McCartney pletórico sobre el escenario, en el que compaginó dos temas nuevos de su último trabajo "Kisses On the Bottom" y canciones de The Beatles, Wings y de su carrera en solitario. Al final de su concierto realizó un medley con canciones del "Abbey Road" (The Beatles,1969) con el que terminó dictando sentencia con aquello de: "And in the end, the love you make is equal to the love you take". (The End, The Beatles).

Tras un breve receso y con un espléndido monólogo del cómico y actor Eddie Izzard, los Foo Fighters entraban en escena con "Jet", un tema de McCartney en su etapa "Wings". Katy Perry, con un sombrero rosa bastante estrafalario, cantó "Hey Jude" dentro de un formato acústico. Duane Eddy interpretaba "And I Love Her" con su estilo "twang" como bandera.
Norah Jones fue la siguiente en subir al escenario con "Oh, Darling", por supuesto adornado con un ligero sabor Hony-Tonk. Alison Krauss and Union Station realizaron "No More lonely Nights" con un tono Bluegrass, y Chris Martin y los suyos, Coldplay, tocaron "We can Work it Out" en formato acústico.
El grandísimo Tony Bennet hacía lo mismo con "Here, There and Everywhere". James Taylor, Diana Krall y John Clayton, el fenómeno contrabajista de Jazz,  tampoco querían perderse la fiesta y cantaron "Yesterday" y  "For No One" al igual que Alicia Keys y su piano interpretaba "Blackbird". Sérgio Mendes y su "The Fool on the Hill" mezclando bossa nova, jazz y funk.
Pero llegaba el gran momento de la noche, todos los estilos musicales y derivados del Rock merodeaban aquella gran fiesta, pero faltaba una pieza para completar el puzzle.
El espíritu y la actitud entrarían en escena después de casi 8 largos años ¡¡Neil Young & Crazy Horse!! Como una apisonadora y torbellino suenan los acordes de "I saw her standing there".
De nuevo Macca salta al escenario junto con Diana Krall y John Pizzarelli para interpretar "My Valentine" y "I'm Gonna Sit Right Down and Write Myself a Letter". Paul, ahora solo en el escenario, cantaba "Nineteen Hundred and Eighty Five". Y para rematar la jugada de la noche con el ex The Eagles, Joe Walsh interpretan juntos "Golden Slumbers/Carry that Weight/The End".
Muchísimas caras famosas entre el público, ahí lo tenéis en nuestro slideshow de fotos, y lo demás ya es historia.
Sir Paul McCartney, Neil Young & Crazy Horse on the run!!