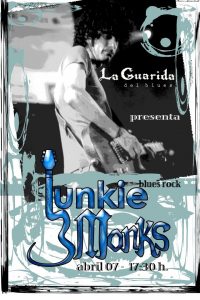 En este largo fin de semana, el jueves, como viene siendo habitual, La Grada TSB organiza su Blues Jam Sessions, contando cada convocatoria con más participantes. Envidia, el día de las Tapas en Triana, contará con "Monteadentro" y el Mojo Club continua con su propio concurso de bandas, siendo dos formaciones con cierta trayectoria en el mundillo musical local las que rellenarán su noche del jueves, "Mentes Extremas" y "Junkie Monks".
Esta última repetirá el sábado en La Guarida, a la que seguirá "The Kumquats" en NYC Taxi y "Ni Funk Ni Fank" en el Tiramisú Funky Bar. El sábado finalizará con "Sally and The Shakers" en el Mojo y una "Blues Canarias Jam" en el Nasdaq.
Te volvemos a recordar que en nuestra sección Calendarock, te exponemos las actuaciones que se celebrarán no solo en Canarias sino en toda España, con toda la antelación que podamos. Hasta la próxima semana, la cual viene cargada de novedades muy interesantes.
JUEVES 5 de abril:
– Blues Jam Sessions  a las 21: horas en La Grada TSB (LPGC)
– Concurso de Bandas a las 22:00 en el Mojo Club  (LPGC) ("Mentes Extremas" y "Junkie Monks")
– "Monteadentro" a las 22:30 en Envidia (LPGC)
Mentes Extremas
VIERNES 6 de abril:
– "Empiezo el lunes"  a las 21:00 horas en la Plazoleta de Farray  (LPGC)
Junkie Monks
SÁBADO 7 de abril:
– "Junkie Monks" a las 17:30 en La Guarida del Blues (LPGC)
– "The Kumquats" a las 19 horas en el NYC Taxi (LPGC)
– "Ni funk Ni fank" a las 21:00 horas en el Tiramisú Funkybar (LPGC)
– "Sally and The Shakers" a las 22:30 en el Mojo Club  (LPGC)
– Blues Canarias Jam a las 23,00 en la Saka Nasdaq (LPGC)
The Kumquats