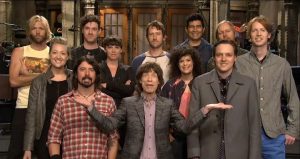 Mick Jagger cerraba la 37ª temporada del legendario programa de televisión norteamericano Saturday Night Live el pasado 19 de mayo en la ciudad de Nueva York, actuando junto con Foo Fighters, Arcade Fire y Jeff Beck.
Con los canadienses Arcade Fire (junto al bajista de The Strokes  Nikolai Fraiture) abriría el show «The Last Time», con Foo Fighters hizo un medley de canciones con  «19th Nervous Breakdown y «It's Only Rock 'n Roll (But I Like It)», tres horas antes de que actuase la banda de «Dave» Grohl (Foo Fighters) en el Festival The Bamboozle festival in Asbury Park de New Jersey.
Jeff Beck se uniría a la fiesta e interpretaba junto a Sir Mick Jagger«Tea Party», una composición «dedicada» al ex gobernador de Massachusetts y candidato en las Primarias presidenciales del Partido Republicano de 2012, Mitt Romney.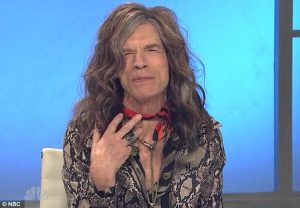 Mick Jagger y Arcade Fire,  «The Last Time»
Mick Jagger no se mordía la lengua y se despachaba a gusto con lo siguiente, "My roots are in blues music. I love the blues because in any era the blues talked about what's on people's minds. So here's a blues that I wrote about the presidential election." (Mis raíces provienen del Blues y amo el Blues y en cualquier época esa música habla del inconsciente de las gentes, así que aquí tenéis un Blues que escribí para el futuro candidato republicano y opositor a Obama en las próximas elecciones presidenciales).
Mick Jagger y Foo Fighters, «19th Nervous Breakdown y «It's Only Rock 'n Roll (But I Like It)»
La canción comenzaba con un clásico riif blusero mientras cantaba Jagger «Si quieres dormir en el Ala Oeste de la Casa Blanca tienes que poner en marcha una estrategia, tienes que dejar tu harén y barco privado, sí, tienes que recaudar unos 100 millones de dólares si no quieres acabar hundido en toda esta mierda, la verdad es que ellos no duermen en el Ala Oeste, sí, el señor Rommey trabaja duro, reza sus oraciones, pero hay una cosa sobre él, no dejes que nunca te corte el pelo». ("If you want to sleep in the West Wing, yeah you got to strategize a bit, If you want to sleep in the West Wing, you wanna keep that private boat yeah you got to strategize a bit, Yeah you're gonna have to raise about 100 million dollars, or you're gonna end up so deep down in the shit, Yeah, Mr. Romney's a hard working man, andnd he always says his prayers, Yeah but there's one little thing about him. Don't even let him cut your hair").
Mick Jagger y Jeff Beck, «Tea Party».
Ya os podéis imaginar como se las gasta el que probablemente será el nuevo candidato a la presidencia de Estados Unidos del partido Republicano, se opone enérgicamente al matrimonio homosexual, defensor a ultranza del seguro médico privado, ha estado involucrado en el escándalo del cierre de una de sus empresas y desaparción de más de 100 millones de dólares y recientemente a declarado que hará sentir a Cuba todo el peso de Estados Unidos.
La traca final vendría de nuevo junto con los Arcade Fire, Steve Martin, Jon Hamm y otros miembros del programa, interpretando "Ruby Tuesday", y "She's Like A Rainbow", "Ruby Tuesday" serviría como despedida a la actriz del SNL Kristen Wiig, que deja el programa esa noche
Como anfitrión del programa después de serlo hace 34 años junto con The Rolling Stones en el año 1978 en el que interpretaron "Shattered", "Beast of Burden" y "Repectable" de aquella obra maestra llamada Tattoo You, en el 1983 en solitario, volvía a parodiarse a sí mismo, a Steven Tyler (Aerosmith), realizaba un espléndido monólogo y actuaba junto a Foo Fighter y Arcade Fire, más Jeff Beck en el programa.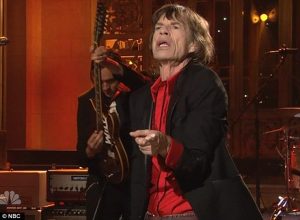 Mick Jagger con casi 69 años de edad era el anfitrión que le daba la despedida a una de las actrices del SNL, Krsiten Wiig, la "nueva graduada" del mítico programa de televisión.
En el capitulo de grupos y artistas  más relevantes que han visitado el programa en su 37ª edición de Saturday Night Live, tenemos a Radiohead, Jack White, The Black Keys, Coldplay, Drake, Bon Iver, Florence and the Machine, Usher, The Shins, Sleigh Bells, Foster the People y Robyn.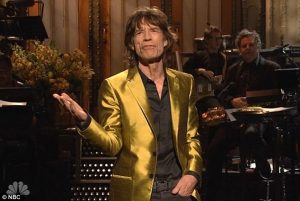 Uno de los momentos más comentados fue el sketch de Mick Jagger en  «So You Think You Can Dance at an Outdoor Music Festival» del programa, en el que imitaba a Steven Tyler, frontman de Aerosmith,  y bromeaba sobre actuaciones en «American Idol» como jurado del concurso y de sus apariciones en anuncios de Burger King,
Momento en el Mick Jagger despide a Kristen Wiig del programa con los Arcade Fire con «She's a Rainbow».
Sketch en el Mick Jagger hace de actor en un concurso haciéndose llamar Chaz Bragman.
Sketch de Mick Jagger como empresario en un karaoke y en el que uno de los aspirantes le canta a Mick Jagger.
Monólogo de Mick Jagger al comienzo del programa en el que habla sobre su interacción con el público durante sus conciertos, si ha obtenido satisfacción alguna vez y de sus arrepentimientos.
Después del programa y como fiesta de despedida, SNL After-Party en el Rockefeller Center con nueva actuación de Mick Jagger con la banda de versiones de Los Angeles Chevy Metal que dirige todo su repertorio hacia el mejor Rock and Roll de los años setenta Black Sabbath, Van Halen, o The Rolling Stones, a la voz y batería Taylor Hawkins, guitarra Chris Shiflett y voz/bajo Wiley Hodgden.
Mick Jagger y Chevy Metal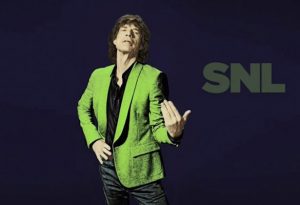 The knighted 68-year-old British singer hosted Saturday Night Live Show last May 19th, and dominated the music segments, fronting Montreal's Arcade Fire for a live-wire version of The Last Time, premiering a Chicago-styled 12 bars of the presidential-election blues with guitarist Jeff Beck, and more than keeping up with Dave Grohl and Foo Fighters on a medley of 19th Nervous Breakdown and It's Only Rock 'n' Roll (But I Like It).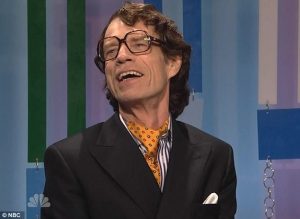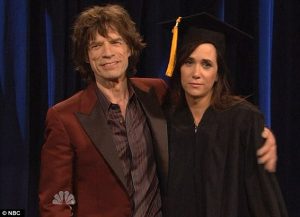 SNL Season Finale TV Promo