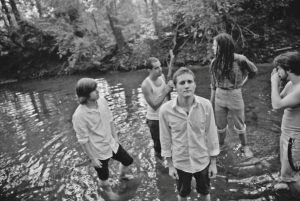 Ben Ringel (voy y guitarra), Dylan Fitch (guitarra), David Supica (bajo), Greg Hommert (armónica) y Ben Azzi (batería) son los furiosos The Delta Saints, la aportación de "Delta Rock" que necesitaba la ciudad del Country, Nashville.
Los beatos, con dos EP's autoproducidos de seis canciones cada uno "Pray On" (2009) y "A Bird called Angola" (2010) y un primer bebé de larga duración llamado "Death Letter Jubilee" financiado en parte por sus fans durante estos tres últimos años a través de KickStarter, fórmula muy común en Estados Unidos. De los $25.000 presupuestados para realizar el nuevo artefacto que estará producido por J. Hall, el mismo productor de su anterior álbum, 17,667 dólares han sido aportados por 204 seguidores patrocinadores.
The Delta Saints vuelven a Europa a lo grande como ya hicieran el pasado año 2011 en el que estuvieron desde el 21 de agosto hasta final del mes de octubre haciendo su parada en los pantanos españoles.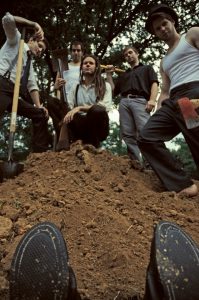 En esta ocasión, la gira europea de The Delta Saints tendrá 37 citas europeas, 18 de ellas en España y otras tantas repartidas por Francia, Bélgica, Holanda, Suecia y Alemania.
El Rock 'n' Roll,  Southern Soul, el voodoo, Hard Blues, el bourbon, White Blues y el whiskey de los mártires The Delta Saints infectarán los oídos de muchísimos españoles en su fiesta absoluta de Delta Rock de su gran Jukejoint Party de 18 ciudades empantanadas.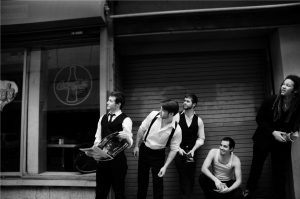 En una España o Europa llena de cantantes, de estilos y de músicos aspirantes a serlo, The Delta Saints llegan con sus radiantes trajes blanquinegros e instrumentos, hastiados de tal vacío Rock, ahora más que nunca. Sus mayores influencias, The Rolling Stones, James Brown, R.L Burnside o John Lee Hooker imploran a los precoces santos del Delta que hay que levantar el panorama musical actual de tanta basura, que se necesita levantar el Rock and Roll con honestidad, y que ellos están en el escenario como oradores llenos de unción y fervor.
Su próximo disco "Death Letter Jubilee" promete exhibicionismo como su magnífico "A Bird called Angola", muchísimo pastiche de estilos Delta Rock, como a ellos les gusta llamarlo y fervor erótico. Sus directos desprenden mucho fuego impulsado por cinco músicos al borde del asesinato, muchísimo sexo oral con la armónica, guitarras y el dobro, entretejido con una dura voz y batería estrepitosa, perderse a The Delta Saints sería un pecado, qué mejor ocasión que ir a confesarse con los Santos del Delta.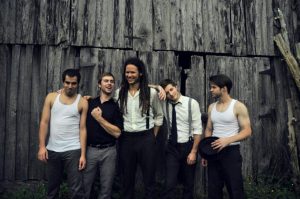 The Delta Saints comienzan su gira europea en las Islas Canarias el próximo 15 de junio en Las Palmas de Gran Canaria y el 16 de junio en Santa Cruz de Tenerife.
Toda la información de The Delta Saints en Las Palmas de Gran Canaria.
Toda la información de The Delta Saints en Santa Cruz de Tenerife.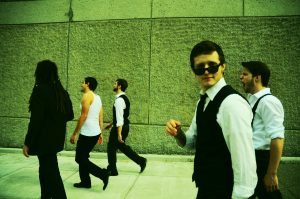 Concierto completo de The Delta Saints en el Rockpalast de Bonn en Alemania el pasado 19 de octubre de 2011.
Del Delta canario pasan al pantano peninsular, siendo Madrid (Sala El Sol, 17junio),  y Valladolid (Porta Caeli, 18 de junio), sus dos siguientes citas. Luego se trasladan a Francia, Bélgica, Holanda, Suecia y Alemania para culminar su faena española de 18 conciertos desde el 5 de julio en Bilbao hasta el 21 de julio en Barcelona. Su gira europea culmina el 5 de agosto en Dranouter, Bélgica.
El primer adelanto del próximo disco de The Delta Saints "Death Letter Jubilee se llama "Liar".
Discografía The Delta Saints, 2 EP's:
"Pray on" (EP 2009)
Train Song
Momma
Pray On
Steppin'
3.000 Miles
I Feel Rain
"A Bird Called Angola" (EP 2010)
Bird Called Angola
Good in White
Company of Thieves
Callin' Me Home
Swamp Groove
Voodoo Walk
Las fechas del The Delta Saints European Tour, Summer 2012 son las siguientes:
15/6/2012 Las Palmas de Gran Canaria, 5º Playa Viva Blues Festival
 16/6/2012 Santa Cruz de Tenerife, 7º Santa Blues Festival
17/6/2012 Madrid,  El Sol
 18/6/2012 Valladolid , Porta Caeli
 20/6/2012 Barberaz, Brin de Zinc, Francia
 21/6/2012 Selestat,  Fête de la Musique, Francia
 22/6/2012 Leffinge,  De Zwerver, Bélgica
 23/6/2012 Amsterdam, Paradiso, Holanda
 24/6/2012 Affligem, Bellekouter, Bélgica
 25/6/2012 Groningen, FPC Dr. S. van Mesdag Centrum, Holanda (evento privado)
 25/6/2012 Belgium, (evento privado)
 28/6/2012 Malmö , St Gertrud, Suecia
 29/6/2012 Eskilstuna, House of Blues, Suecia
 30/6/2012 Varnamo,  Industribaren, Suecia
 1/7/2012 Nasby (Öland), Carla's café, Suecia
 2/7/2012 Hamburg, Hafenklang, Alemania
 4/7/2012 Cognac, Blues Passions festival, Francia
5/7/2012 Bilbao,  Kafe Antzokia
 6/7/2012 Vitoria, Jardin de Falerina, Museo Montehermoso
 7/7/2012 Burgos, Estudio 27
 8/7/2012 Santander (Gajano – Marina de Cudeyo),  La Cambolita
 10/7/2012 Gijon, Monkey Club
 11/7/2012 Santa Maria del Paramo, Taberna Belfast
 12/7/2012 Ponferrada,  Tarari
 13/7/2012 Béjar, Plaza de Toros, Bejar Blues Festival
 14/7/2012 Spain, (evento privado)
 15/7/2012 Vigo,  Sala Son
 17/7/2012 Cadiz,  Sala Supersonic
 18/7/2012 Estepona, Louie Louie
 19/7/2012 Elda – Spain @ Sala Texola
 20/7/2012 Valencia,  El Loco Club
 21/7/2012 Barcelona,  Rocksound
 25/7/2012 Koln,  Sonic Ballroom, Alemania
 26/7/2012 Enschede ,  The Nix, Holanda
 27/7/2012 Bremen, Radio Bremen, Nordwestradio, Alemania
 28/7/2012 Kasterlee, Wisselfeesten, Bélgica
05/8/2012 Dranouter, Dranouter festival,  Bélgica
The DELTA SAINTS kick off their mammoth 2 month European tour presenting their furious Delta Rock Blues and their new upcoming album "Death Letter Jubilee" in six different countries Spain, France, Belgium, Holland, Sweden and Germany. The Delta Saints from Nashville kick off their tour in Las Palmas de Gran Canaria and Santa Cruz de Tenerife, Canary Islands, next June 15 and 16th.