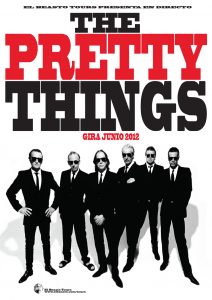 Los sucios y furiosos The Pretty Things (Phil May, Dick Taylor, Frank Holland, George Perez, Mark St John y Jack Greenwood), visitan de nuevo España en una nueva gira de los ingleses por media Europa.
Seis jóvenes ingleses en 1963 deciden hacer un grupo con el nombre de una canción de Willie Dixon, "Pretty Thning",  interpretada por Bo Diddley en 1955, pero que llegaría a las listas inglesas en 1963 el mismo año de comienzo de The Pretty Things.
Dick Taylor, futuro bajista de The Pretty Things, después de estar en la escuela de arte londinense Sidecup Art College junto con sus amigos Keith Richards y Mick Jagger, decide en 1962 unirse a la banda Little Boy Blue and Blue Boys, embrión de lo que sería los futuros The Rolling Stones con Brian Jones y Ian Stewart en sus primeros inicios.
Al cabo de unos meses abandona el grupo y conoce a Phil May (cantante y armonicísta) , uno de los músicos de culto más importantes del Reino Unido, Van Morrison llegó a decir que "David Bowie copiaba a Phil May, pero con ropa diferente".
Phil May y Dick Taylor forman The Pretty Things en 1963, una banda con un sonido Rhythm Blues más crudo y sucio que The Rollings Stones o The Animals, fueron los pioneros del garage Rock y Beat británico.
Brian Pendleton (guitarra y fallecido en 2001), John Stax (bajo), Pete Kitley (batería) y Bryan Morrison como manager.
A partir de ahí,la leyenda de The Pretty Things comenzaba con grandísimos conciertos en los tugurios más sucios de media Inglaterra, llegaría su primer gran contrato discográfico con Fontana Records y sus primeros éxitos "Rosalyn" o "Don't bring me Down".
The Pretty Things (1965) sería su primer y portentoso disco de 12 sucias canciones, unas originales y otras versiones de Chuck Berry, Bob Diddley o Jimmy Reed. El disco se grabó en unos dos días y su sonido aún es maravilloso, todas las canciones suenan deliciosamente oscuras y con ese directo tan fresco hoy en día.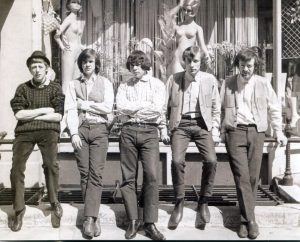 De ahí en adelante más discos grabados en los estudios Stanhope Place como Get the Picture (1965).
Llegarían los tiempos del Flower Power y The Pretty Things añadirían a sus composiciones psicodelia, S.F. Sorrow sería un experimento ópera rock que se adelantaría al Tommy de The Who en aquella época.
Tras unos años setenta desastrosos en cuanto a composiciones y nuevos manager en los 80 deciden tomarse un descanso y The Pretty Things desaparecería del panorama musical.
Ahora vuelven más fuertes que nunca tras casi 50 años en la carretera y con una gira europea que recala de nuevo en España con una actuación en Madrid que será la primera.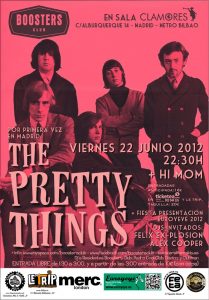 Las fechas de la gira española de The Pretty Things son:
16 de junio – Andoain (Guipuzkoa) – Andoaingo Rock Jaialdia
18 de junio – Orihuela (Alicante) – Auditorio La Lonja
20 de junio – Valencia – Loco Club
21 de junio – Barcelona – Salamandra
22 de junio – Madrid – Clamores, más artista invitado Hi Mom!
24 de junio – León – El Gran Café
The Pretty Things touring Spain in seven different cities since june 16th till June 24th in Leon, El gran cafe.