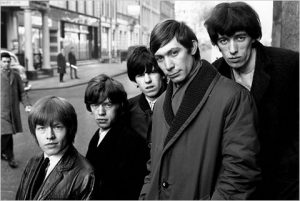 Hoy 3 de julio de 2012 se cumplen 43 años de la muerte de Brian Jones, guitarrista, instrumentista y miembro fundador de The Rolling Stones, ahogado en la piscina de su casa casi un mes después de abandonar la banda.
Igual que Charlie Watts, su pasión por el Jazz hizo que fuese descubriendo sus raíces y entre ellas el Blues, denominador común de la banda. Brian Jones estaba obsesionado con el Deep Blues o Blues de raíces, no tanto Mick Jagger o Keith Richards que preferían los menos puristas.
Brian Jones era un ferviente fan de Charlie Parker, y de ahí que empezase a tocar el saxofón y el clarinete desde muy temprana edad.
Con 19 años se traslada a Londres y participa eventualmente en el grupo de Alexis Korner, Blues Incorporated, un grupo importante dentro del circuito R&B londinense. Su obsesión era formar una nueva banda de Rhythm & Blues, por lo que pone un anuncio en el semanario Jazz News, al cual respondieron el guitarrista Geoff Bradford y el pianista Ian Stewart.
En abril de 1962 Brian Jones recrutaría al embrión de lo que sería The Rolling Stones con los siguientes nombres  Mick Jagger, Keith Richards, Ian Stewart, Geoff Bradford, Dick Taylor (The Pretty Things), Tony Chapman y Mick Avory, tras una actuación en el club londinense Ealing Jazz Club.
Geoff Bradford y Dick Taylor abandonan la banda, y contrataron al batería Tony Chapman. Antes de la salida de Taylor, Brian Jones bautizó a la agrupación como The Rolling Stones, después de escuchar la canción "Rollin' Stone" de Muddy Waters.
A mediados de año, Blues Incorporated, la banda de Alexis Korner cancelaba su presentación en el Club Marquee londinense, situación que fue aprovechada por la nueva banda.
En el mítico The Marquee, el 12 de julio de 1962, Jagger, Richards, Jones, Stewart, Chapman  y Taylor, ofrecieron su primer concierto oficial como The Rolling Stones.
A partir de ahí comenzaría a forjarse la leyenda de The Rolling Stones, Brian Jones, y la batalla de egos, una persona muy introvertida, drogadicto, autor de muchas canciones durante su etapa en The Rolling Stones y que nunca vieron la luz, y sus dos discos "AfterMath" y "Their Satanic Majesties Request" fueron en los que más a gusto se sintió dentro de la banda.
En la elaboración de "Beggars Banquets" (1968) apenas participó debido sus constantes escapadas hacia Marruecos, apasionado por los ritmos morunos. En 1969, tras comenzar la grabación de "Let it Bleed" sus problemas con las drogas continúan acrecentándose y es internado en sucesivas clínicas de desintoxicación. Mick Jagger y Keith Richards deciden contratar al guitarrista Mick Taylor y prescindir de Brian Jones el 10 de junio de 1969.
Un comunicado de prensa de Brian Jones diría lo siguiente: "Ya no nos comunicamos musicalmente. La música de los Stones no es de mi gusto. Quiero hacer mi propia música antes que tocar la de los otros. La única solución es que tomemos caminos separados, aunque sigamos siendo amigos."
Unos meses antes de la publicación de Let it Bleed, un 3 de julio de 1969, Brian Jones era encontrado muerto en la piscina de su casa en Sussex, dos días antes de aquel legendario concierto en el Hyde Park de Londres, llamado "Stones in the Park".
A July 3rd, 43 years ago, Brian Jones passed away. It was 1969 when the guitarist and founder member of The Rolling Stones was encountered in his home pool at Sussex. The tragic event occurred 3 weeks after leaving the band, two days before "Stones in The Park", a few months before the "Let It Bleed" release. He credits for the band name after Muddy Waters well known tune, and many never released songs as well. Rest In Peace.