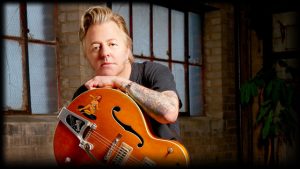 Brian Setzer regresa con otro disco en directo el próximo 4 de septiembre llamado "Rockabilly Riot! Live from the Planet" gira mundial que recorrió los cuatro continentes y que Dirty Rock tuvo la suerte de presenciarlo en directo el 25 de junio de 2011 en el Azkena Rock Festival de Vitoria-Gasteiz, su única actuación ese año en España. (lee nuestra cronica de la edición del Azkena Rock Festival del 2011).
Europa, Norte América, Japón y Australia fueron los cuatro continentes en el que se pudieron escuchar ese gran abanico de canciones que te transportaba hacia los años 50's y 60's, mezclando como nadie los sonido más primigenios, crudos y salvajes de una época dorada, en su espectáculo "Rockabilly Riot!
El disco de Brian Setzer contiene 19 canciones que envuelven una edición especial de 1000 vinilos y una versión estándar de cd, grabadas en Clermont-Ferrant y Burdeos (Francia), Berlín (Alemania), Manchester (Inglaterra), Zurich (Suiza), Ámsterdam (Holanda), Estocolmo (Suecia) Calgary y Edmonton (Canadá), Adelaida y Sydney (Australia), Austin, Seattle, Chicago, Pórtland, Spokane y Wichita (Estados Unidos), Tokio (Japón) y Luxemburgo.
Brian Setzer interpreta "Ignition" primer tema del disco  "Rockabilly Riot! Live from the Planet", representada en Francia.
Brian Setzer dividió su espectáculo en toda la gira en dos partes o sets. Para la primera, con un trajeado batería y un contrabajista punk, reservó sus temas en solitario y cuando creíamos que el concierto iba a deparar pocas sorpresas, Setzer cambió el fondo del escenario y a su banda. ¡¡¡Apareció Slim Jim Phantom!!!, batería de Stray Cats, para ayudarlo a tocar clásicos e incunables del grupo.  ¡Qué interprete! aún sigo escuchando día tras día sus disco con The Head Cat con Lemmy y Danny Harvey, ¡¡vaya discazos!!.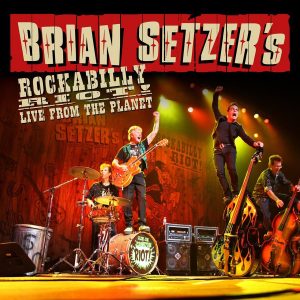 El  Rockabilly Riot Squad que acompañaba a Brian Setzer,  fue el siguiente, Noah Levy a la batería, y Johnny "Spazz" Hatton al contrabajo.
La segunda parte del set la intregaron Slim Jim Phantom a la batería y Chris D'Rozario al contrabajo, Kevin McKendree tocó el piano en ambos sets. Afilados, dulces, y grasientos nos hicieron bailar en aquel memorable concierto del Azkena Rock Festival del 2011, como lo haría Little Richard o estremecerte con Eddie Cochran.
Escucha el nuevo disco de Brian Setzer "Rockabilly Riot! Live from the Planet" al comleto.
Lo de Setzer fue una única intención de sustituir la nostalgia por la diversión. Si hace medio siglo teníamos a Chuck Berry o a Buddy Holly, hoy nosotros tenemos a Brian Setzer, "Song from Lonely Avenue" es su último trabajo, y lo de aquella noche sirve de consuelo hasta su próxima visita después de aquel directo, todo se sabe a poco.
Lista de reproducción de vídeos de Brian Setzer grabados por Dirty Rock en su visita al Azkena Rock 2011.
El track list del disco de Brian Setzer  "Rockabilly Riot! Live from the Planet" lo componen:
Ignition (Clermont-Ferrand, France)
'49 Mercury Blues (Calgary, Canada)
This Cat's On A Hot Tin Roof (Edmonton, Canada)
Drive Like Lightning (Crash Like Thunder) (Adelaide, Australia)
8-Track (Bordeaux, France)
Slow Down / Folsom Prison Blues (Austin, Texas, USA)
Put Your Cat Clothes On (Seattle, Washington, USA)
Blue Moon of Kentucky (Chicago, Illinois, USA)
Pickpocket (Stockholm, Sweden)
Rumble in Brighton (Tokyo, Japan)
Runaway Boys (Portland, Oregon, USA)
Cry Baby (Zurich, Switzerland)
Great Balls Of Fire (Sydney, Australia)
Red Hot (Amsterdam, Holland)
Seven Nights to Rock (Wichita, Kansas, USA)
Como cada año Brian Setzer volverá con su gira de conciertos Christmas Rocks! Extravaganza en noviembre por Estados Unidos y Canadá desde el 17 de noviembre hasta el 20 de diciembre.
Brian Setzer will release Rockabilly Riot! Live from the Planet September 4th, nineteen track in a Lp vinyl record and 15 standar cd of live tracks from four different continents as North America, Japan, Australia and Europe.