Un día como hoy, 5 de julio de 1969 en Cockpit Area, Hyde Park, Londres se realizaba el concierto gratuito en homenaje al desaparecido Brian Jones, presentando en el mismo a Mick Taylor como nuevo guitarrista.
Muchos cifraron que 500.000 personas acudieron a ver el concierto de los Rolling Stones. Era el primer concierto público de The Rolling Stones en 2 años. Era pleno verano, 5 de julio, el calor hacía estragos y el directo estaba preparado para ser la presentación de su nuevo guitarrista, Mick Taylor. Pero sus planes se trastocaron repentinamente cuando, 2 días antes de la actuación, moría Brian Jones. A partir de ese momento, el de Hyde Park se convertiría en el homenaje al gran guitarrista fallecido a los 27 años.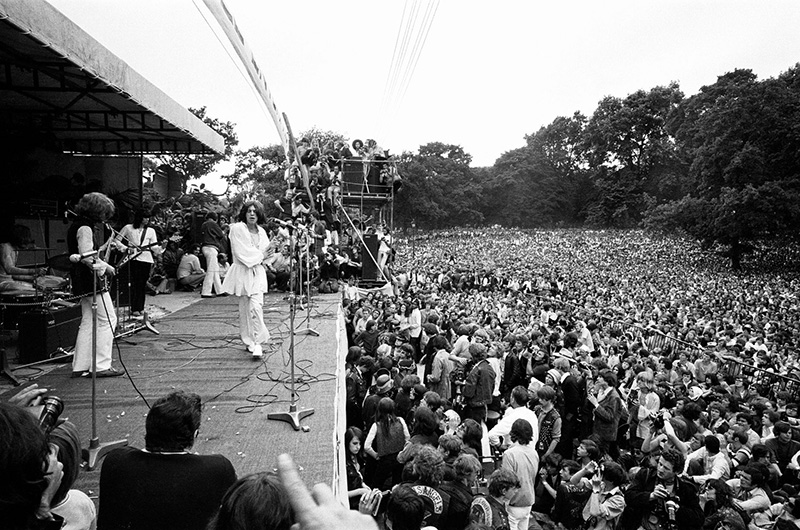 Los Stones tocaron catorce canciones en aquel concierto y Jagger saltó al escenario vestido de blanco y recitando un poema de Percy Bysshe Shelley en honor de su guitarrista Brian Jones, quien había fallecido solo dos días antes y por el que el cantante soltó miles de mariposas al cielo londinense. 44 años después de aquel concierto, regresaron los Stones al Hyde Park.
Setlist del concierto:
Adonais (poema para Brian Jones, leído por Mick)/I'm Yours And I'm Hers/Jumping Jack Flash/Mercy Mercy/Stray Cat Blues/No Expectations/ I'm Free/Down Home Girl/Love In Vain/Loving Cup/Honky Tonk Women/ Midnight Rambler/Satisfaction/Street Fighting Man/Sympathy For The Devil.