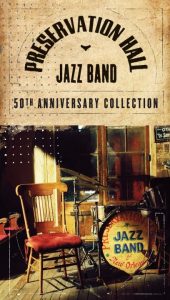 Después de que una sala de arte en Nueva Orleans, reconvertida después en una de las mejores salas de Jazz y estudios de grabación de todo el planeta, la Preservation Hall en la calle St. Peter Street sirviese de plataforma musical a miles de músicos.
Tras cincuenta años, su banda Preservation Hall Band y un elenco de grandísimos músicos como My Morning Jacket, George Wein, Steve Earle, Tao Seeger, Trombone Shorty, Del McCoury Band, Allen Toussaint, Ed Helms, GIVERS, Yasiin Bey (conocido como Mos Def), King Britt, Blind Boys of Alabama, y Merrill Garbus de tUnE-yArDs, publican y rinden tributo el próximo 25 de septiembre.
El disco se titula «Preservation Hall Jazz Band. St Peter and 57th St», disco en directo grabado el pasado 7 de enero en el Carnegie Hall de Nueva York, tras haber sido devastada y reformada tras el el huracán Katrina en el 2005.
Muchas generaciones de músicos han pasado por la que quizás sea la banda de Jazz más divertida de New Orleans y de buena parte de Estados Unidos.
El Preservation Hall está enclavado en un edificio que data de 1817, y ha sido desde sus comienzos desde una taberna durante la guerra de 1812, a un estudio fotográfico o una galería de arte.
Su dueño por aquel entonces, Larry Borenstein, montaba las jams informales con sus amigos. A partir de ahí surgió el concepto de la Preservation Hall. Un lugar íntimo, cuyo exterior ha permanecido intacto a lo largo de su historia.
Allan y Sandra Jaffe fundan el Preservation Hall en 1961,  lo cual significa que cumple 51 años de existencia. Estas dos personas creyeron en la idea de preservar el jazz de Nueva Orleans, el autentico Jazz nacido en esta vieja ciudad. Desde sus humildes comienzos como local de jam session semanal y centro de reunión de todos los amantes de la música sincopada, el Preservation Hall se ha convertido ahora en uno de los locales más famosos de la música pura de Nueva Orleans.
La banda no ha parado de hacer giras por todo el mundo, difundiendo, fomentando y perpetuando la alegría del jazz de Nueva Orleans. Fueron galardonados con la Medalla Nacional de las Artes en el 2006. En 2007, la banda aceptó una invitación para participar en el Goin' Home "A Tribute to Fast Domino», interpretando su propia versión de "When The Sains Go Marching In" con Theresa Andersson.
Tom Waits interpretando «Tootie Ma Is A Big Fine Thing»
Aparte de local y banda, la Preservation Hall Jazz Band también se proclama como sello discográfico. Casi me atrevería a decir que han creado un estilo de jazz basado en el Dixieland y el jazz tradicional de Nueva Orleans. El demoledor huracán Katrina obligó a cerrar el Preservation Hall durante el otoño e invierno del 2005. Y aunque el edificio permaneció cerrado hasta el mes de abril del 2006, la banda continuó tocando.
Jim James de My Morning Jacket interpretando la grandiosa «St. James Infirmary Blues»
Ese mismo día se pondrá a la venta un Box Set The Preservation Hall 50th Anniversary Collection del 50 aniversario del afamado local de conciertos con grabaciones inéditas durantes los años 60, 70 y 80's con Allen Toussaint y otros 19 álbumes reconvertidos en 4 Cd's con 58 canciones.
In commemoration and celebration of the 50th Anniversary of the iconic venue Preservation Hall, the prolific New Orleans jazz legends Preservation Hall Jazz Band are set to release a live recording of the band's acclaimed January 7th performance at Carnegie Hall.
Entitled St. Peter and 57th St. (September 25th, Rounder Records), the album will feature a number of special guests from an assortment of genres including, George Wein, Del McCoury Band, Allen Toussaint, Ed Helms, GIVERS, Steve Earle, Tao Seeger, My Morning Jacket, Trombone Shorty, Yasiin Bey (aka Mos Def), King Britt, Blind Boys of Alabama, and Merrill Garbus of tUnE-yArDs