Outside the Box son cuatro chicos de New Jersey que durante los últimos cuatro años han sido la banda elegida en la mítica sala Stone Pony como sus inquilinos permanente, bien calentando la sala, tocando integramente el último disco de The Band "The Last Waltz" o presentando su último trabajo "Bridge", un disco con once canciones que huelen a instructores como Jeff Tweedy, Joe D'Urso,  Willie Nile, Elliot Murphy, The Gaslight Anthem, The Hold Steady o Springsteen.
"Bridge" el nuevo disco de Outside the Box publicado en 2011 creo que se mueve más allá de las orillas y aguas del río Delaware y Hudson en New Jersey, el espítitu John Hiatt y Tony Scalzo de Fastball en la voz de Jeff Cafone, dispara toda esa pólvora en cada escucha de "Bridge" mucha energía Wilco-Costello, esas Hammond y guitarras afiladas con algún toque psicodélico desembocando en aguas Roots Rock.
Siguiendo la estela de bandas como Danny & the Champions of the World, US Rails que también visitan España este mes o los estancados Fastball desde Austin, Jeff Cafone a la guitarra y voces, Mark Masefield al Hammond y teclados, Francis Valentino a la batería y Ryan Wheeler al bajo, oxigenan el panorama Rock Folk urbano norteamericano.
Outside the Box inician su gira europea en España el próximo 9 de septiembre, pasando por Francia, Austria, Alemania y Holanda, siendo el 6 de noviembre su última fecha en el viejo continente.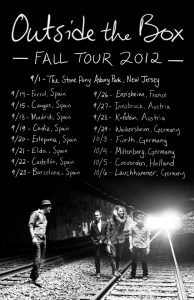 Fechas de la gira española de Outside the Box:
9 de septiembre, Madrid, gira de presentación, Hawthorn Cafe
14 de septiembre de 2012,  Ferrol, Super 8
15 de septiembre de 2012,  Cangas, Sala Son
18 de septiembre de 2012,  Madrid, La Boîte
19 de septiembre de 2012,  Cadiz, Supersonic
20 de septiembre de 2012,  Estepona, Louie Louie
21 de septiembre de 2012,  Elda, Texola
22 de septiembre de 2012,  Castellon, Pub D'Leyend
23 de septiembre de 2012,  Barcelona, Rocksound