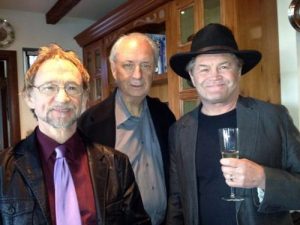 ¿Te suenan?
Ellos son Peter Tork, Michael Nesmith y Mickey Dolenz.
Hace unas semanas que han anunciado que vuelven a la carretera ¡¡después de su última gira en 1997!!
¡¡ The Monkees !!
The Monkees con sus tres miembros Peter Tork, Michael Nesmith y Mickey Dolenz rendirán un emotivo tributo a Davy Jones, líder de la agrupación que falleció el pasado 29 de febrero de 2012.
Después de 15 años sin actuar juntos, desde 1997, la banda norteamericana The Monkees actuará en 12 ciudades en Estados Unidos, comenzando la gira el 8 de noviembre con cuatro conciertos en California y culminando el 2 de diciembre en el emblemático Beacon Theatre de Nueva York.
Amantes del buen country en sus inicios, The Monkees es otra de las bandas más influyentes de la música contemporánea siendo los pioneros del llamado Pop prefabricado.
Iniciaron su andadura en Los Angeles en 1965, Micky Dolenz, Michael Nesmith, Peter Tork, norteamericanos y Davy Jones, inglés.
Ésta sería su primera gira de The Monkees desde 1997 y comenzará el 8 de noviembre en Escondido, California, y terminará el 2 de diciembre en Nueva York, donde se rendirá un homenaje a  Davy Jones con un contenido multimedia en cada uno de sus conciertos.
The Monkees interpretando What am I doing Hangin' Round?
El setlist de este gira estará centrado especialmente en el tercer álbum de The Monkees, «Headquarters». También incluirá algunos temas de Nesmith y de Peter Tork que nunca antes se han tocado en directo.
The Monkees interpretando I'm a Believer
The Monkees fue una banda creada para la televisión y en 1966 protagonizó su propio programa en NBC aprovechando la fiebre Beatles que sacudía al mundo.
The Monkees interpretando (I'm Not Your) Steppin' Stone
Entre los sus grandes éxitos «Last Train to Clarksville», «I'm a believer», «She», 'I'm not your stepping stone», «A little bit me a little bit you», «Look out here comes tomorrow»,  «Pleasent valley sunday», «When loves come knockin' at your door», «I wanna be free», «Theme of the monkees» , «Daydream believer» o «That was then, this is now» entre otros.