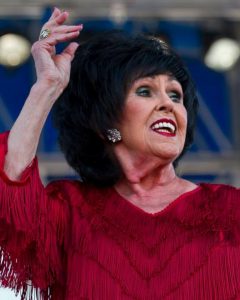 ¿Abatida y derrotada Wanda Jackson?
¡Ni mucho menos!, Wanda Jackson presenta su nuevo vídeo «Tore Down»,  una versión de «la gran bola de cañón tejana» Freddie King y Eric Clapton, para su nuevo disco de estudio titulado "Unfinished Business" y que saldrá a la venta el próximo 9 de octubre.
La genial cantente de Oklahoma nos vuelve a sorprender con un magnífico vídeo, en el que aparece el famoso actor porno Ron Jeremy durante la década de los años ochenta, y J.D. Wilkes  cantante de The Legendary Shack Shakers y ahora de los espléndidos The Dirt Daubers y artistas norteamericanos como Chris Crofton, Erin Belle (Black Belles), Jonas Stein (Turbo Fruits), Heidi Feek, Tristen, Coco Hames y Poni Silver (The Ettes), Beth Cameron (Forget Cassettes, Ponychase), Nikki Lane, Shane Tutmarc o Brandon Jazz entre otros.

Como bien dice la letra de «I'm Torn Down», Wanda Jackson se siente estar a la altura de los zapatos con su novio, cansada, destrozada y hasta dispuesta a suicidarse, aunque dispuesta a serle infiel en cualquier caso. (A Wanda Jackson le encanta este tipo de canciones).
https://youtu.be/cRf5vippNKk
Wanda Jackson regresa con un nuevo disco de estudio, el número 31 de su larguísima carrera musical, producido por el genio y cantante Folk Justin Townes Earle, hijo de Steve Earle, que precisamente ayer noche ambos participaban en los premios de la Americana Music como nominados en esta nueva edición.
El nuevo disco de Wanda Jackson "Unfinished Business", incluye diez 10 canciones en la que en una de ellas comparte micro con su productor  Justin Townes Earle en "Am I Even a Memory".
Escucha el nuevo disco de Wanda Jackson "Unfinished Business".
Dos canciones del  "Unfinished Business" son versiones de Bobby and Shirley Womack "It's All Over Now", canción que popularizarían The Rolling Stones posteriormente y otra interpretación del genio de Woody Guthrie "California Stars," (que popularizarían Wilco y Billy Bragg años más tarde).
El Bluesman Freddie King interpretando la maravillosa «I'm Torn Down»
El nuevo disco de "The Queen of Rock and Roll" supone el regreso de Wanda Jackson por la puerta grande de la "Roots Music" (música de raíces), precisamente del lugar que ella provenía, música Country, Blues, Rockabilly y posteriormente Gospel.
El anterior trabajo de Wanda Jackson fue producido por otro músico Jack White, y supuso el regreso de la gran dama con voz canalla, al gran público, "The Party Ain't Over" de Nonesuch Records y Third Man Records, propiedad de Jack White.
El disco está realizado y grabado por la compañía discográfica estadounidense Sugar Hill Records en Nashville, Tennessee, dedicada a relanzar y proyectar música de raíces norteamericana.
Con Justin Townes Earle, auguramos éxito seguro, más que con el bandolero Jack White, estamos seguros.
Puedes leer la crónica del concierto de Wanda Jackson en Santa Cruz de Tenerife, Islas Canarias el pasado domingo 8 de julio de 2012.
Si quieres conocer más al grande Justin Townes Earle, no dudes en seguir el siguiente enlace para escuchar su más reciente y maravilloso disco "Nothing Is Gonna Change the Way You Feel About Me Now".
Wanda Jackson just released «Torn Down» her new video, a cover by Freddie King and Eric Clpaton and releases a new album "Unfinished Business", the 31st one produced by Folk singer Justin Townes Earle, Steve Earle son, and out October 9th 2012.