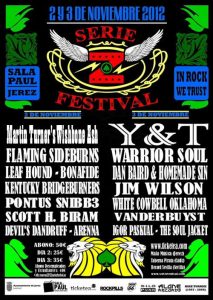 El Serie Z Festival 2012 que se celebra en la Sala Paúl de Jerez de la Frontera los días 2 y 3 de noviembre, arranca de nuevo con un magnífico cartel de Rock & Roll en su cuarta edición.
El Serie Z Festival no es un festival cualquiera de Rock and Roll, la gran mayoría de bandas y nombres no están apoyadas en su justa medida en grandes medios meidiáticos al igual que el propio evento, Rock & Roll con sus derivados y sus fuentes directamente a tu cabeza y extremidades.
El Festival Serie Z tuvo dos ediciones en 2003 y 2003, éste dejó de realizarse durante 8 largos años, para volver con muchísima más fuerza el pasado 7 y 8 de octubre de 2011.
La nueva edición del Serie Z festival que se celebra en el antiguo y remodelado espacio bodeguero conocido como Sala Pául, en el que se organizan los eventos alrededor de un patio, a través del cual se accede a las distintas areas que lo componen.
El Serie Z Festival podría perfectamente ser un festival paralelo al mejor festival de Rock and Roll de España, el Azkena Rock Festival, que se celebra mucho más al norte en la maravillosa ciudad de Vitoria-Gasteiz.
Horarios por días del Serie Z Festival en Jerez, Cádiz.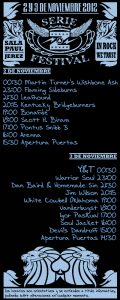 La edición del 2012 del Serie Z 2012, es realmente espectacular en cuanto a nombres, Dan Baird & the Homemade Sin, The Soul Jacket, Martin Turner de Wishbone Ash, Warrior Soul, Yesterday & Today,  Jim Wilson , Scout H. Biram, Kentucky Bridgeburners,  The Flaming Sideburns,  Vanderbuyst,  White Cowbell Oklahoma, Leaf Hound, Bonafide, Pontus Snibb 3, Arenna, Devil's Dandruff e Igor Paskual.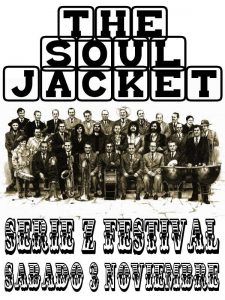 Los artistas y nombres que han pasado por el Serie Z Festival son realmente formidables, Hanoi Rocks, Nomads, Hellacopters, Diamond Dogs, Nashville Pussy, Bellrays, The Quireboys, Speedbuggy, Pentagram, Saint Jude, 77 , Bob Wayne, Erick Sardinas, Backdraft, Green Manalishi, Rip KC, Five Horse Johnson, Radio Birdman, Twister Sister, Thee Michele Gun Elephant, Georgia Satellites, Lords of Altamont, Texas Terri, Jason Ringenberg, Nashville All Stars, Thee Michelle Gun Elephant, Bummer, Sin City Six, Thee Michelle Gun Elephant, The Savoy Truffle, The Cherry Valence, Nine Pound Hammer.
El día 1 de Noviembre, el Serie Z Festival realiza una fiesta previa a los dos grandes días, en colaboración con Alone Records llamada Alone Records Night @ Seriez Z Festival.
En esta fiesta previa participarán tres bandas de este sello discográfico Alone Records como son, «Orthodox», «Adrift», y «El Páramo».
El precio de esta fiesta será de 7€ para los que tengan el abono del Serie Z Festival 2012 y de 10€ para los que no. El lugar de los conciertos, será la Sala Comedia, en Jerez.
Información sobre venta de entradas del Serie Z Festival en Jerez de la Frontera, Cádiz:
www.ticketea.com y reservas2012@seriezfestival.es
Abono dos días 50 € público general ;
Abono desempleados y estudiantes: 40 € máximo dos tickets por persona y solo para compra directa en Discos Mala Música y en nuestro mail de reservas: reservas2012@seriezfestival.es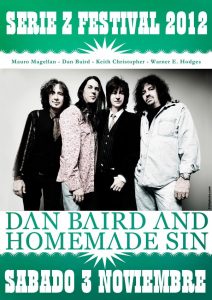 Puntos de venta física de entradas para el festival Serie Z festival:
-discos El melli, en cadiz
-Sevilla records en Sevilla
-Mala música en Jerez