«Not Fade Away» es una película dirgida por David Chase, creador y guionista de la serie de televisión The Sopranos, en la que debuta en la gran pantalla con la historia de un grupo de jóvenes que se sienten identificados con el mundo The Rolling Stones en 1964 y por lo que deciden formar una banda de Rock & Roll.
«Not Fade Away» se estrena el próximo 21 de diciembre  de 2012, y cuenta con el gran aliciente de que Steve Van Zandt, el E. Street Band de Bruce Springsteen, produce la excelente banda sonora de la película con canciones de The Rolling Stones, James Brown, Bo Diddley, Elmore James, Lead Belly , The Moody Blues, Robert Johnson, Bob Dylan, Sex Pistols, The Rascals, Nancy Sinatra o The Twylight Zones entre otros, la banda sonora estará disponible unos días antes,  el 18 de diciembre.
«Not Fade Away», está protagonizada por Jack Huston, Will Brill, Bella Heathcote, James Gandolfini, Brad Garrett y Christopher McDonald y se presentó por primera vez en el Festival de Cine de Nueva York el pasado agosto, festival que cumplía el 50 aniversario, denominándose 50th New York Film Festival.
Escucha la banda sonora de «Not Fade Away».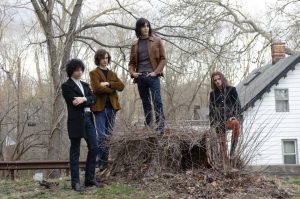 Banda Sonora de «Not Fade Away» Soundtrack  Track list

'There Was a Time' – James Brown
'Tell Me' – the Rolling Stones
'Ride On Baby' – the Twylight Zones
'Bo Diddley' – Bo Diddley
'Bo Diddley' – the Twylight Zones
'Subterranean Homesick Blues' – the Twylight Zones
'Parachute Woman' – the Rolling Stones
'Go Now' – the Moody Blues
'Time Is on My Side' – the Twylight Zones
'Dust My Broom' – Elmore James
'I Ain't Gonna Eat Out My Heart' – the Rascals
'Good Morning Blues' – Leadbelly
'Train Kept A Rollin'' – Johnny Burnette & the Rock N' Roll Trio
'Train Kept A Rollin'' – the Twylight Zones
'Pretty Ballerina' – the Left Banke
'Down So Low' – Mother Earth
'Itchycoo Park' – the Small Faces
'Me and the Devil Blues' – Robert Johnson
'The St. Valentine's Day Massacre' – the Twylight Zones
'T.B. Sheets' – Van Morrison
'Some Velvet Morning' – Nancy Sinatra & Lee Hazelwood
'Bali Ha'i' (From South Pacific) – Original Motion Picture Cast
'Road Runner' – the Sex Pistols
'Pipeline' – the Twylight Zones
'She Belongs To Me' – Bob Dylan
Digital Bonus Track: 'Surgical Supply Jingle'