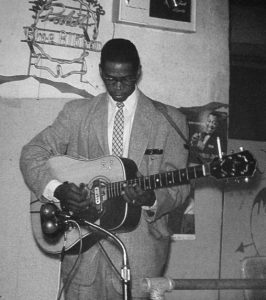 «I'm gonna get up in the morning, I believe I'll dust my broom».
Elmore James y su Blues celebra hoy el aniversario de su nacimiento, décadas de vigencia con el sonido del lamento y gritón de su guitarra, gracias a una técnica llamada slide o «Bottleneck», de la que el genio Robert Johnson fue su mentor con guitarra acústica y Elmore James el gran difusor de esa técnica.
El «Bottleneck» o slide, consiste en tocar una nota, en la que luego se desliza (slide) el dedo a otro traste, hacia arriba o abajo del diapasón, las cuerdas son tocadas a través de un pequeño tubo metálico o de cristal, como el cuello de una botella de cerveza rota (bottleneck) , situado en el tercer o cuarto dedo de la mano que actúa en el diapasón, ell sonido se presta especialmente a ligaduras y glisandos, generando además un clima muy característico del blues.
La técnica del slide y «Bottleneck», se originó y desarrolló en Delta del Mississippi a mediados de los años 20, W. C. Handy, la describiría en grabaciones a grabaciones a Silvester Weaver, en la que su intención era la de imitar la expresividad de la voz, en tiempos de la esclavitud, su nombre»Bottleneck» se debe a que los inicios de esta técnica arrancaron con cuellos rotos de cerveza.
Elmore James interpretando «Dust my Broom» 0 «Shake your money Maker», son los dos ejemplos más claros de fiereza y slide, insistiendo una y otra vez en los riffs maquiavélicos a mediados de la década de los años treinta, pero no fue a comienzos de los años 50, cuando el legendario sello discográfico Trumpet en Mississippi, creado por Henry y Lillian McMurry, grabaron sus primeras canciones con Sonny Boy Williamson a la armónica y Odie Johnson al bajo, «Dust my Broom», uno de los temas que Robert Johnson había registrado en 1936 e «I Belive, My Time Ain't Long».
Aquel disco de Elmore James, obtuve gran éxito y llegó al número 9 de las listas de Billboard, a pesar de conservar el viejo sabor del blues rural, el sello discográfico Meteor en Chicago le ofrecieron un contrato, en el junto a su nueva banda llamada The Broomdusters compuesta por J. T. Brown (saxo tenor), Johnny Jones (piano) y Odie Payne (batería) grabaron de nuevo «I Belive» (continuación de «Dust My Broom»), «Baby What's Wrong», «Sinful Woman» e «I Held My Baby Last Night».
Elmore James y su influencia en grandes nombres es notable y su larga se nos hace larguísima, alguno de esos nombres son J. B. Huto, Hound Dog Taylor, Earl Hooker, Jhonny Winter, Jimmy Hendrix, John Mayall, Jeremy Spencer (Fleetwood Mac), Duanne Allman, Ry Cooder, Lowel George, Eric Clapton, Mike Wilhem, Freddie King, Paul Butterfield, Stevie Ray Vaughan, Lil' Ed & The Blues Imperials (sobrino de J. B. Hutto) o George Thorogood.
Un 24 de mayo de 1963, Elmore James con 45 años de edad, sufría un ataque cardíaco falleciendo en casa de su primo y amigo Homesick James, con quien entonces tocaba en un club de Chicago, su tumba se encuentra en el cementerio del condado de Holmes en Durant, Mississippi.
«I believe, I believe my time ain't long, I ain't gonna leave my baby and break up my happy home».