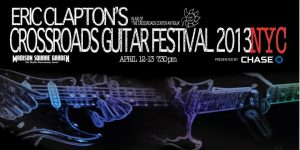 Eric Clapton presentó ayer lunes 19 de noviembre la cuarta edición del "Crossroads Guitar Festival 2013" que se celebrará en el Madison Square Garden de Nueva York los días 12 y 13 de abril de 2013 y que reunirá a treinta de los mejores guitarristas y bandas del momento.
"Crossroads Guitar Festival 2013", contará con la presencia de BB King, Booker T, Gary Clark Jr., Jeff Beck, Buddy Guy, Allman Brothers Band, Taj Mahal, Eric Clapton, Keb Mo, Robert Cray, Robert Randolph, Jimmie Vaughan, Albert Lee,  Robbie Robertson, Los Lobos, John Scofield, Jonny Lang, Keith Urban, Brad Paisley, Allan Holdsworth, Andy Fairweather Low, Blake Mills,  Citizen Cope, Dave Biller, Doyle Bramhall, Earl Klugh, John Mayer, Kurt Rosenwinkel, Quinn Sullivan,  Sonny Landreth y Vince Gill.
Crossroads Guitar Festival, suma ya tres ediciones la del 2004 en el Cotton Bowl en Dallas, Texas y las ediciones del 2007 y 2010, realizadas en el Toyota Park en Chicago.
Puedes ver la edición del Crossroad Guitar Festival del 2007 al completo.
La finalidad del Crossroads Guitar Festival es la de rehabilitar a drogadictos y alcohólicos desde hace ya 14 años, por parte de una organización creada y fundada por Eric "Slowhand" Clapton, desde hace casi ya 14 años con su Crossroads Drug Treatment Center en Antigua, fundado en 1998.
Crossroads Guitar Festival en su edición del 2013, celebrará su 15º aniversario los días 13 y 15 de abril en el emblemático Madison Square Garden de Nueva York, con un cartel realmente alucinante, además la organización ha preparado un gran exposición de guitarras y memorabilia de grandes guitarristas de la histora del Rock & Roll y Blues como las dos guitarras de Eric Clapton las Fender Stratocasters "Blackie" y Brownie o la Gibson ES-335, o la "Lenny" Fender Stratocaster de Stevie Ray Vaughan, entre otras, llamada "Legends Guitar Walk".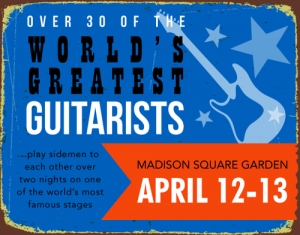 Además Eric Clapton anunció nueva gira por Estados Unidos para el próximo abril y marzo de 2013, con el contará con un plantel de músicos para la ocasión realmente impresionantes, Doyle Bramhall II a la guitarra, Steve Jordan a la batería, Chris Stainton al piano, Willie Weeks al bajo, Paul Carrack (a los teclados y Greg Leisz al pedal steel, The Wallflowers, la banda liderada por el hijo de Bob Dylan, Jakob Dylan abrirá todos sus conciertos en Norteamérica.
Eric Clapton reedita su quinto álbum de estudio "Slowhand", el 26 de noviembre,  para celebrar el 35 aniversario de su publicación y del nombre del disco, apodo de Eric Clapton "mano lenta" durante su etapa en The Yardbirds a comienzos de la década de los años sesenta, "Looking at the Rain" es el nuevo adelanto del disco, versión del cantante candiense Gordon Lightfoot, que descartó Eric Clapton en aquel mayo de 1977 cuando grababa su disco "Slowhand", puedes leer esta noticia en nuestro artículo y escuchar su tema inédito.