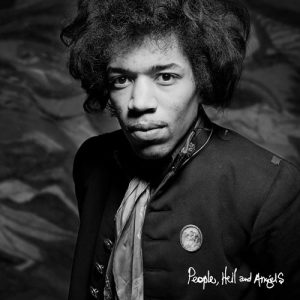 Jimi Hendrix tiene en "People, Hells and Angels", otro nuevo disco de canciones inéditas que el ingeniero Wayne Kramer ha juntado tras la ruptura de Hendrix con su formación The Jimi Hendrix Experience, el nuevo disco se publicará el próximo 4 de marzo de 2013.
Jimi Hendrix y su música estaba evolucionando y por lo escuchado en su nuevo single "Something", que cuenta con la participación de  Stephen Stills y Buddy Miles y como en "Hey Gypsy Boy" o "Easy Blues", este disco se parece mucho más a la línea mostrada en el "First Rays of the New Rising Sun", publicado en la década de los años noventa.
El primer single del nuevo disco de Jimi Hendrix, se llama "Somewhere" y cuenta con la participación de Stephen Stills (Buffalo Springsfield o Crosby, Stills, Nash & Young) al bajo y Buddy Miles (Band of the Gypsys, Wilson Pickett, Bootsy Collins o Carlos Santana) en batería. Les dejamos el tracklist y el adelanto de lo "nuevo" de Hendrix.
Jimi Hendrix "People, Hells and Angels", tracklist:
Earth Blues
Somewhere
Hear My Train A Comin'
Bleeding Heart
Baby Let Me Move You
Isabella
Easy Blues
Crash Landing
Inside Out
Hey Gypsy Boy
Mojo Man
Villanova Junction
Jimi Hendrix el pasado año celebró el 70 aniversario de su nacimiento con la publicación de mucho material, pero sobre todo con el Hendrix 70: Live At Woodstock, título del documental que celebra el 70 aniversario del nacimiento de Jimi Hendrix con imágenes del concierto que ofreció en el festival Woodstock en Nueva York, en agosto de 1969, el cual reunió a parte de los artistas que cambiaron el sentido y el espíritu del Rock and Roll a nivel mundial, siendo una dee las actuaciones más legendarias e importantes de aquel festival.