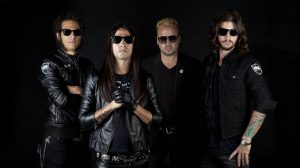 The Black Thunders, editan su nuevo EP «Angels of the Devil», tras su demo publicada en el 2010 «Black Demo Nº1» de seis virulentas canciones. El cuarteto barcelonés con Mr. Crow (Bajo), Mr. Tiger (Voz & Guitarra), Mr. Dog (Guitarra) y Mr. Octopus (Batería) presentaron su nuevo y sucio trabajo, «Angels of the Devil»,  el pasado 21 de diciembre en la Sala Rocksound de Barcelona, un EP de cuatro canciones grabado en La Atlántida Estudios de Barcelona bajo la supervisión de Edgar Beltri (The Eyes, Tiki Phantoms) y Mario Patiño, y masterizado en los los estudios On Air de Nueva York.
The Black Thunders ejecutan buen Rock 'n' Roll, fornido y robusto, de ese que te llega al estómago, con esa vena macarra de Danzig, Cheap Trick o Danko Jones en «Electric Fire» y «Angels of the Devil», el aroma a The Who en «Bad Lover» o esa convicción de apretar el acelerador como The Flaming Sideburns en la punzante «Crucified for Rock 'n' Roll».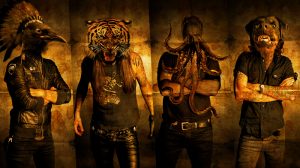 «Angels of the Devils» de los truenos negros, se escudan en ese título y espíritu del mejor Rock noventero, grandes riffs y lejos de divagar del manual de la vieja escuela, arranques de Rock & Roll que terminan mutando en rabiosas cabalgadas metaleras de alto octanaje, electricidad, fuego, demonios y crucifixiones ¿Bad Lovers?, no lo creo.
Escucha «Angels of the Devils» de The Black Thunders
Próximos conciertos de The Black Thunders:
Viernes 01 de Febrero de 2013, Black Thunders + Chaqueteros, Sala Monasterio – Barcelona (Passeig Isabell II, Nº4), entrada: 6€, Puertas: 21:30h / Inicio: 22:00h.
Viernes 15 de Febrero de 2013, Black Thunders + Star MafiaBoy, Hot Rock Bar (VK), Madrid (C/Río Orinoco, 23)Entrada: 6€, desde: 21:00h horas. (CANCELADO)
Sábado 16 de Febrero de 2013, Black Thunders + Bzous, Haemorrhage Emetic Club – Castellón (C/Alcalde Tárrega, 43), Entrada: 5€, desde: 19:30h horas.
Sábado 16 de Marzo de 2013, Black Thunders + Llunatiks, Pub Ca Maria – Valencia (Playa de Oliva), Entrada: Gratis, desde: 23:00h horas.
Jueves 04 de Abril de 2013, Black Thunders + Yakuzas, Rocksound – Barcelona (C/Almogàvers, 116), Entrada: 5€, desde: 21:00h horas
Viernes 12 de Abril de 2013, Black Thunders + Star MafiaBoy, La Urbe del Kas – Madrid (Av. Monte Igueldo 79), Entrada: 4€ con Cerveza / 6,50€ con Copa, desde: 22:00h horas.
 MotorFest, Sábado 18 de Mayo de 2013, Torelló – Catalunya – España