The Bluefields publicaron «Pure», su álbum debut el pasado 15 de mayo de 2012, es la super banda de Warner E. Hodges (Jason & The Scorchers y Dan Baird & Homemade Sin), Dan Baird (Dan Baird & Homemade Sin, The Georgia Satellites, The Yayhoos, Bobby Keys & The Suffering Bastards, o Trent Summar & the New Row Mob), Joe Blanton (The Enemy, Royal Court of China) y Brad Pemberton, estarán de gira en España del 22 de marzo al 2 de abril con ciudades ya confirmadas.
The Bluefields, es la soldadura de tres genios del Rock & Roll con mayúsculas, como son Warnes E. Hodges y Dan Baird, junto a Joe Blanton, auténtico teroso en esa maravillosa ciudad, llamada Nashville, Tennessee.
The Bluefields se formaron a comienzos de 2011, tras un esbozo inicial de Warner E. Hodges (guitarra y voz), Joe Blanto (guitarra y voz) y luego Dan Baird que toca el bajo en la banda y voces, como una potente super banda paralela a sus proyectos individuales.
Junto al batería de The Black Crowes y Stereophonics, Steve Gorman, para rematar «Pure», un disco que a modo de locomotora guitarrera y compositiva ponen en su mausoleo particular a sus grandes referentes del Rock'n'Roll de la vieja escuela, el Country, sucio Blues del Delta y el Southern Rock como Chuck Berry, Big Joe Turner, Little Richard, Roy Orbison,The Rolling Stones, Faces, ZZ Top, Creedence Clearwater Revival, Bob Seger, The Clash, Led Zeppelin, Bo Diddley, Elmore James, Jeff Beck, Elvis Presley, Bob Dylan o The Band.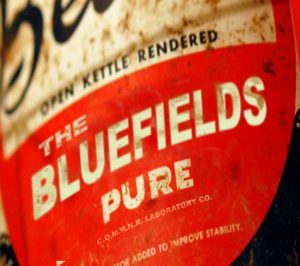 Joe Blanton, componente de una de Royal Court of China, una de las bandas de  Hard Rock & Roll de culto más importantes en Norteamérica en la década de los noventa,  canta en la gran mayoría de las canciones del nuevo disco de The Bluefields, «Pure», aunque Dan Baird y Warner E. Hodges lo hacen en las magníficas «Lay it on the Line»,  «Belong», «Trainwreck» o «Done».
Escucha «Pure» de The Bluefields.
«Pure», el nuevo disco de The Bluefields, es natural y simple Rock and Roll, como sus tres genuinos músicos, las trece grandes canciones que completan el disco, resúmen la enjundia del Rock & Roll vista desde una perspectiva sureña. Obligatorio verlos, y escuchar su nuevo disco como ya hicimos con Dan Baird & Homemade Sin el pasado año en su concierto de Madrid el 2 de noviembre de 2012.
The Bluefields gira española presentando su disco «Pure» (2012)
22 de marzo,  Barcelona. Rocksound
23 de marzo,  Zaragoza. La casa del loco
24 de marzo,  Monzón.Serjos Zona Rock
27 de marzo,  Madrid. La boite. + The Vegabonds
26 de marzo, Valencia, Loco Club
28 de marzo,  Cangas. Salason
29 de marzo,  La Coruña. Mardigras
30 de marzo,  Gijón. Acapulco
31 de marzo,  Bilbao. Azkena
2 de abril, Liérganes. Los Piscos Whisky Bar
The Bluefields «Pure» tracklist:
1. What you Won't Do
2. Bad Old Days
3. Don't Let Me Fall
4. Nobody Loves You
5. Belong
6. Repair My Soul
7. If Not Now When
8. Lay It On The Line
9. Flat Out Gone
10. Trainwreck
11. She's So Sick/100 Watt Girl
12. Ain't nothin' Wrong
13. Done