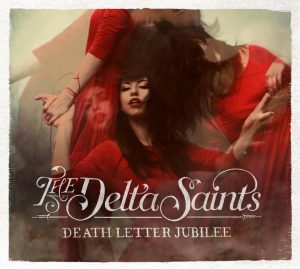 The Delta Saints debutan con su primer disco «Death Letter Jubilee», tras sus dos EP's autoproducidos conteniendo seis canciones cada uno, en "Pray On" (2009) y "A Bird called Angola" (2010), hoy 15 de enero en Estados Unidos y el próximo 15 de febrero.
«Death Letter Jubilee» de The Delta Saints está acompañado de una larga gira que comenzó el pasado 10 de enero en Louisville, KY, en Estados Unidos y culminará el 3 de marzo en su ciudad natal Nashville, Tennessee.
The Delta Saints tomarán Europa a partir del 15 de marzo en Diksmuide, Bélgica, hasta el 27 de abril en Holanda, visitando tambien Francia, Alemania, Suiza, Suecia, Dinamarca, Finlandia y Noruega. The Delta Saints, se tomarán un respiro y regresarán a España, del 25 de junio al 18 de julio,  Francia, Bélgica, Holanda y Alemania de nuevo en junio y julio próximo para presentar ante su público «Death Letter Jubilee».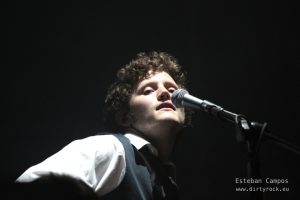 The Delta Saints y su nuevo vídeo «Death Letter Jubilee».
The Delta Saints, los beatos furiosos Ben Ringel (voy y guitarra), Dylan Fitch (guitarra), David Supica (bajo),  Ben Azzi (batería) y Stephen Hanner (armónica), han escrito trece canciones para su primer bebé de larga duración llamado "Death Letter Jubilee", financiado en parte por sus fans durante estos tres últimos años a través de KickStarter, fórmula muy común en Estados Unidos. De los $25.000 presupuestados para realizar el nuevo artefacto que estará producido por J. Hall, el mismo productor de su anterior álbum EP "A Bird called Angola" (2010).
Escucha «Death Letter Jubilee» de The Delta Saints.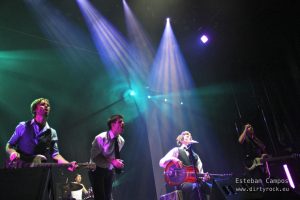 The Delta Saints son los mártires Rock 'n' Roll,  Southern Soul, del voodoo, Hard Blues, del bourbon, White Blues, del Delta Rock y el sucio whiskey. «Death Letter Jubilee» es puro exhibicionismo como su magnífico "A Bird called Angola", muchísimo pastiche de estilos Delta Rock, como a ellos les gusta llamarlo y fervor erótico.
The Delta Saints presentaron oficialmente «Liar» como primer adelanto, su segundo sencillo es el  fantástico «Death Letter Jubilee».

Además, sus directos desprenden mucho fuego impulsado por cinco músicos al borde del asesinato, muchísimo sexo oral con la armónica, guitarras y el dobro, entretejido con una dura voz y batería estrepitosa, perderse a The Delta Saints sería un pecado, qué mejor ocasión que ir a confesarse con los Santos del Delta.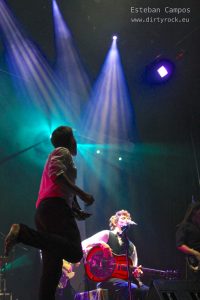 En una Europa y España llena de cantantes, de estilos y de músicos aspirantes a serlo, The Delta Saints llegan con sus radiantes trajes blanquinegros e instrumentos, hastiados de tal vacío Rock, ahora más que nunca.
Las mayores influencias de The Delta Saints son, The Rolling Stones, James Brown, R.L Burnside o John Lee Hooker imploran a los precoces santos del Delta que hay que levantar el panorama musical actual de tanta basura, que se necesita levantar el Rock and Roll con honestidad, y que ellos están en el escenario como oradores llenos de unción y fervor.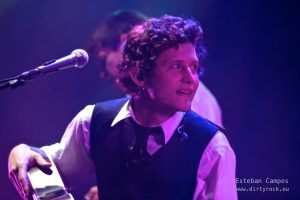 The Delta Saints, reportaje fotográfico del concierto de los norteamericanos en Las Palmas de Gran Canaria el pasado 15 de junio de 2012, abriendo su gira europea, realizado por Esteban Campos Trujillo. Clica en la foto para verlas todas.
Ben Ringel, cantante, guitarrista y compositor de The Delta Saints,  participó en uno nuestros artículos sobre el 50 aniversario de The Rolling Stones el pasado año.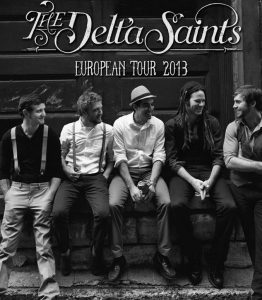 The Delta Saints U.S Tour 2013 «Death Letter Jubilee».
1/17 – Chattanooga, TN @ Rhythm & Brews
1/18 – Knoxville, TN @ Barley's
1/19 – Lexington, KY @ Cosmic Charlie's w/ American Aquarium
1/24 – Atlanta, GA @ Smith's Olde Bar w/ Yarn
1/25 – Johnson City, TN @ Capone's
1/26 – Greensboro, NC @ The Blind Tiger w/ Yarn
1/27 – Wise, VA @ The Hangar Bar
1/30 – Vienna, VA @ Jammin' Java
1/31 – NYC @ Rockwood Music Hall
2/1 – New Hope, PA @ Triumph Brewing Company
2/2 – Harrisonburg, VA @ Clementine Cafe
2/8 – Birmingham, AL @ Zydeco
2/9 – Tupelo, MS @ Blue Canoe
2/16 – Lawrence, KS @ The Bottleneck
2/28 – Akron, OH @ Musica
3/1 – Sturtevant, WI @ Route 20 Outhouse
3/2 – Chicago, IL @ Reggie's
3/3 – Nashville, TN @ 3rd and Lindsley – Lightning 100's Nashville Sunday Night

The Delta Saints European Tour 2013 «Death Letter Jubilee». (First Leg)
15/03/2013 Diksmuide – Belgium @ 4AD
16/03/2013 Beauvais – France @ Blues autour du Zinc Festival
17/03/2013 Beauvais – France @ Blues autour du Zinc Festival (second show)
18/03/2013 Paris – France @ New Morning
19/03/2013 press day/Paris
20/03/2013 Verviers – Belgium @ Spirit of 66
21/03/2013 Eppstein – Germany @ Wunderbar Weite Welt
22/03/2013 Stuttgart – Germany @ Zwoelfzehn
23/03/2013 Terneuzen – Holland @ Porgy and Bess
24/03/2013 Den Bosch – Holland @ W2
25/03/2013 Wetzlar – Germany @ Kulturzentrum Franzis
26/03/2013 Fürth – Germany @ Kofferfabrik
27/03/2013 Krefeld – Germany @ Kulturrampe
28/03/2013 Hamburg – Germany @ Clum am Donnerstag 29/03/2013 Avesta – Sweden @ Kulturgaraget
30/3/2013 Mariehamn – Finland @ Dino's Pub Bar and Grill
31/3/2013 Stockholm – Sweden @ Akkurat
5/4/2013 Eskilstuna – Sweden @ House of Blues
6/4/2013 Oslo – Norway @ Buckley's/Oslo Blues Klubb
9/4/2013 Federicia – Denmark @ Bruunske Pakhus
10/4/2013 Bremen – Germany @ Moments
11/4/2013 Holzminden – Germany @ Musik Club Holzminden
12/4/2013 Isernhagen – Germany @ Blues Garage
13/4/2013 Amsterdam – Holland @ Paradiso
14/4/2013 Enschede – Holland @ Nix
16/4/2013 Clermont – Ferrand – France @ Poco Loco
18/4/2013 Beaumont – France @ Le Temps des Crises
19/4/2013 Aarschot – Belgium @ De Klinker
20/4/2013 Oostende – Belgium @ Compact center – acoustic gig – Vindictivelaan 10 (afternoon show – limited space – be early !)
20/4/2013 Lichtervelde – Belgium @ Delirium Blues Festival
21/4/2013 Arras – France @ Blue Devils
22/4/2013 Ravensburg – Germany @ Balthes Pub
23/4/2013 Bartenheim – France @ Cafconc des 3 Frontières
24/4/2013 Bartenheim – France @ Cafconc des 3 Frontières (second show)
25/4/2013 Bern – Switzerland @ ISC
26/4/2013 Wil – Switzerland @ Gare de Lion
27/4/2013 Holland @ tba