Sont Volt anuncia «Honky Tonk», séptimo disco de estudio de los de St. Louis, Missouri,   con once nuevas canciones, para el próximo 5 de marzo de 2013. Son Volt, es una banda pionera del Alt. Country y Folk Rock de Estados Unidos, que se formó a mediados de los años 90, tras la escisión, de los legendarios Uncle Tupelo de Jay Farrar, Jeff Tweedy, Mike Heidorn, Bill Belzer, Ken Coomer, Max Johnston, y John Stirratt, configurándose Wilco con Jeff Tweddy a la cabeza y los propios Son Volt, con Jay Farrar a los mandos.
Son Volt con la publicación de su nuevo disco «Honky Tonk», tras su decepcionante último «American Central Dust» (2009), anuncia una nueva gira por Estados Unidos a partir del 10 de abril por el medio oeste del país.
Escucha «Honky Tonk» de Son Volt.
Primer vídeo adelanto de Son Volt, «Hearts and Minds».
Son Volt con su disco debut «Trace» en 1995 y sus dos siguientes «Straightaways» (1997) y «Wide Swing Tremolo» (1998), lograron llamar la atención de público y crítica de una nueva revolución de nombres y bandas de Folk Rock y de un nuevo género denominado Alt. Country o Country Alternativo, con nombres como Wilco, los anteriores Uncle Tupelo, The True Believers con Alejandro Escovedo y Javier Escovedo, Green on Red con Chuck Prophet y Dan Stuart y , The Jayhawks, Blue Mountain o la superbanda Golden Smog con Tweddy y Gary Louris o los grandiosos Drive by Truckers.
Jay Farrar participó el pasado año en otra superbanda llamada New Multitudes, junto a Will Johnson de Centro-Matic, Anders Parker de Varnaline y Yim James, sobrenombre de Jim James, componente de My Morning Jacket, para grabar un disco de canciones de Woody Gunthrie que nunca fueron grabadas el pasado año.
Son Volt lo conforman Jay Farrar (cantante, pedal-stell, guitarra y armónica), Dave Bryson (batería), Andrew Duplantis (bajo), Gary Hunt (mandolina, violín y guitarra), y Mark Spencer (teclados).
Escucha «A Retrospective 1995-2000» de Son Volt.
Son Volt, «Honky Tonk» tracklist
1. Hearts and Minds
2. Brick Walls
3. Wild Side
4. Down the Highway
5. Bakersfield
6. Livin' On
7. Tears of Change
8. Angel of the Blues
9. Seawall
10. Barricades
11. Shine On
Jay Farrar interpretando «Drug Store Truck Drivin' Man» y «Devil in Disguise», en el concierto tributo a Gram Parsons en Los Angeles en el 2004, llamado Return to Sin City: A Tribute to Gram Parsons y en el que tuvimos la suerte de presenciarlo en directo.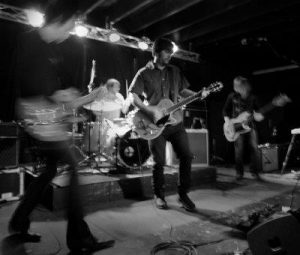 Son Volt, gira U.S Honky Tonk 2013 Tour:
10 – Nashville, Tenn. @ Mercy Lounge
11 – Asheville, N.C. @ The Orange Peel
12 – Atlanta, Ga. @ Terminal West
13 – Carrboro, N.C. @ Cat's Cradle
14 – Knoxville, Tenn. @ Bijou Theatre
16 – Birmingham, Ala. @ WorkPlay Theatre
17 – New Orleans, La. @ The Parish
18 – Houston, Texas @ Continental Club
19 – Austin, Texas @ Old Settler's Music Festival
20 – Dallas, Texas @ Sons of Herman Hall
Escucha «Honky Tonk» de Son Volt