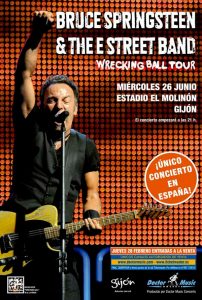 Bruce Springsteen & The E Street Band han agotado en 4 horas las 30.000 entradas a la venta para su concierto en Gijón, Estadio El Molinón, el próximo 26 de junio, el día que se han puesto las entradas a la venta, esta mañana a partir de las 9 horas GMT.
Las entradas para el concierto de Bruce Springsteen & The E Street Band, oscilaban entre 55, 65 y 75 euros con asiento reservado y los 65 euros acceso a pista.
Nos viene a la cabeza irremediablemente, el concierto ofrecido por el "Jefe" en Las Palmas de Granaria el pasado 15 de mayo de 2012, en el que el Rock desperdiciaba una gran oportunidad aquella noche, y puso en su sitio a aquellos que siempre se quejaron, los de siempre, los rockeros de postal, esos que llevan camisas de Ramones, Deep Purple o últimamente de The Rolling Stones compradas en grandes almacenes, las gradas vacías y ellos, eso sí, en sus casas.
Enhorabuena Gijón y a la muchísima gente que ama el Rock & Roll.
Reflexión sobre lo ocurrido en Las Palmas de Gran Canaria durante el concierto de Bruce Springsteen & The E Street Band