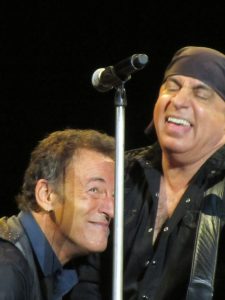 Bruce Springsteen recibe hoy el premio MusiCares Person of The Year en la ciudad de Los Angeles, fiesta paralela a los premios Grammy, y que lo entrega el sindicato de la industria musical estadounidense.
Bruce Springsteen es noticia también en España, Gijón será el lugar donde actúe The Boss el próximo 26 de junio en el Estadio de El Molinón dentro del Wrecking Ball Tour 2013 en Europa que concluye en la hermosa localidad de Kilkenny en Irlanda el 27 y 28 de julio.
Las entradas para el concierto de Bruce Springsteen & The E Street Band en Gijón,  se podrán adquirir a partir de las 10:00 am del jueves 28 de Febrero en www.doctormusic.com y www.ticketmaster.es, Fnac, Carrefour, y por teléfono en el 902 15 00 25.
El precio del concierto de Bruce Springsteen & The E Street Band en Gijón, será de 55, 65 y 75 euros para las entradas de asiento reservado y 65 Euros para las entradas de pista (gastos de distribución no incluidos).  Entradas de pista en las taquillas del Teatro Jovellanos, también a partir de las 10 horas del jueves 28 de Febrero.
Tom Morello (Rage Against the Machine o Audioslave) sustituye a Steve Van Zandt temporalmente en la E Street Band en su próxima gira de Springsteen a Australia del 14 al 31 de marzo, debido a los compromisos de Steve Van Zandt con la serie noruega "Lilyhammer", en la que "Little Steve" interpreta a Frank Tagliano , miembro de la mafia italiana de Nueva York que delata a su jefe y pasa a formar parte del programa de protección de testigos, el mafioso  elige el pequeño pueblo de Lilyhammer, para esconderse.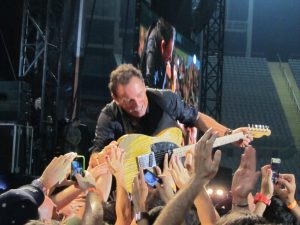 Única fecha de Bruce Springsteen en España según la promotora Doctor Music,.
Toca disfrutar de Bruce Springsteen y el tributo que le rendirán esta noche compañeros de profesión como Neil Young, Alabama Shakes, Zac Brown, Jackson Browne, Ken Casey, Kenny Chesney, Ben Harper, Emmylou Harris,  Faith Hill, Jim James, Elton John, Juanes, John Legend, Natalie Maines, Tim McGraw, Tom Morello, Mumford & Sons, Patti Smith, Mavis Staples, Sting o Eddie Vedder, en la fiesta Musicares, antesala de los premios Grammy.
Para conocer más detalles del MusiCares Person of the Year que recae en Bruce Springsteen, pincha en este párrafo.
Para conocer más detalles de los premios Grammy 2013 que se entregan el domingo 10 de enero, pincha en este párrafo.