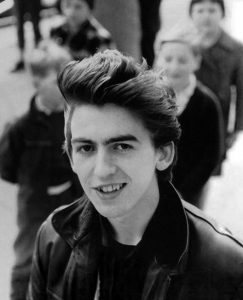 George Harrison, su música y letras cumplen hoy 73 maravillosos años. El Ex Beatle, personaje fundamental dentro de la banda, y uno de los grandes nombres de la historia del Rock, músico que tocaba más de una veintena de instrumentos.
George Harrison era el componente más joven de los Beatles, banda que provenía del germen The Quarrymen, en el que un grupo de amigos de colegio en Liverpool formaron una banda de Skiffle en 1957, primeramente con la formación  John Lennon, Paul McCartney, George Harrison, Stuart  Sutcliffe (bajo) y Pete Best (batería), entrando posteriormente Ringo Starr.
George Harrison optó por cambiarse su nombre en aquella etapa por el de Carl Harrison, en honor a su ídolo de Rockabilly Carl Perkins.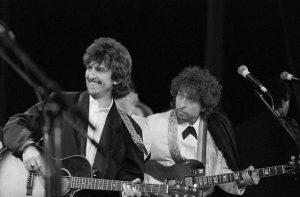 La gran mayoría de temas de Beatles, aunque no llevaran su firma en los créditos eran de George Harrison, en la que Lennon y McCartney en muchísimas ocasiones ocultaban su auditoría, una de las causas que llevó a la banda a separarse.
El primer tema de  George Harrison en los créditos para los Beatles sería Don't bother me, tema pasó a formar parte del álbum With The Beatles, segundo disco de la banda en 1963, su madurez compositiva llegó con el disco "White Album" (1968) y "Abbey Road" (1969) con obras maestras como Something, While My Guitar Gently Weeps o Here comes the sun.
George Harrison cuando rompe con los Beatles, su capacidad compositiva y éxito seguiría aumentando, muchísimo más que la de John Lennon o Paul McCartnet, su disco "All things must pass" (1960), primer disco triple de la historia del Rock por un músico en solitario, es un buen ejemplo de ello, disco producido por Phil Spector, con temas grandiosos como "My Sweet Lord", "Isn't It A Pity", o "What Is Life".
La incorporación del sitar en el mundo Harrison cuando rodaba la película "Help", en el disco "Rubber Soul" lo incluiría por primera vez, con la canción Norwegian Wood, Concert for Bangladesh, su gran amistad con Ravi Shankar, Bob Dylan o Eric Clapton, sus activismo permanente contra el hambre y la desigualdad, fumador empedernido, su pasión por la Fórmula Uno, propietario de una productora cinematográfica, Handmade Films, que produjo la mayoría de films de los Monthy Python y finalmente la herencia de la súper banda The Traveling Wilburys junto a Jeff Lynne, Roy Orbison, Bob Dylan, Jim Keltner y Tom Petty, con dos obras de arte  Traveling Wilburys Vol. 1 (1988) y  Traveling Wilburys Vol. 3 (1990).
El magnífico documental dirigido por Martin Scorsese dedicada a George Harrison, " Living in the material world", narra su última etapa en los Beatles y su posterior éxito en solitario.
Si quieres conocer más detalles sobre un proyecto de documental de Beatles, The Beatles Live!,  y visita de Beatles a Tenerife de vacaciones, clica en éste párrafo.