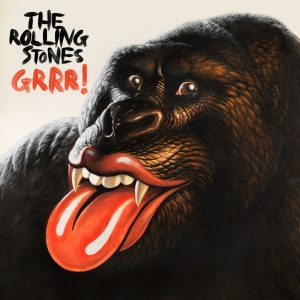 The Rolling Stones acaban de anunciar hoy 4 de septiembre, el lanzamiento de un nuevo disco, que recopilará lo mejor durante sus 50 años de carrera musical con el titulo de GRRR! y que saldrá a la venta el próximo 12 de noviembre, con dos temas nuevos,"Gloom And Doom" y "One Last Shot", dos títulos muy acordes con los tiempos que vivimos «Pesimismo y Negatividad» y «El último tiro/oportunidad»

The Glimmer Twins durante estas tres últimas semanas y especialmente desde el pasado desde el 21 de agosto han mostrado en su página web y en sus diferentes redes sociales la imagen de unos ojos tras un fondo negro, hoy eso ojos se han convertido en un gran gorila que gruñe GRRR!.
Como novedad The Rolling Stones anuncian también dos temas nuevos,"Gloom And Doom" y "One Last Shot",  grabados en su reciente estancia en París, en Suresnes durante el pasado 21 agosto, en los estudios Studios Guillaumetell al noroeste de París y del que os hemos venido informando desde nuestra página de Dirty Rock Facebook como todo lujo de detalles y que desde el pasado 2005 no se reunían todos juntos desde aquel «A Bigger Bang».
Escucha «Doom And Gloom», el primer single de GRRR! de The Rolling Stones
The Rolling Stones presentarán su nueva película-documental «Crossfire Hurricane» dirigida por Brett Morgen que estará disponible en DVD el próximo noviembre y que se pasará tanto por HBO norteamericana como por la BBC inglesa. Aunque un poco antes 250 cines alrededor de Europa tendrán el privilegio de verla el próximo 18 de octubre a partir de su estreno en elLondon Film Festival Premiere ese jueves.
El pasado 12 de julio se celebraba el 50 aniversario del primer concierto de The Rolling Stones en el The Marquee Club de Londres, con una inauguración fotográfica de sus 50 años de carrera musical el pasado jueves 12 de julio en Somerset House, Londres.
Walton Ford ha sido el encargado de diseñar la portada del nuevo disco, que tendrá cuatro diferentes formatos, una versión de triple CD con 50 temas, la super deluxe con cuatro discos y 80 temas, una colección histórica desde su versión de «Come On» de Chuck Berry, su primer single de 1963, pasando por «The Last Time», «(I Can't Get No) Satisfaction», «Get Off Of My Cloud», «Jumping Jack Flash», «Honky Tonk Women», «Brown Sugar», «Tumbling Dice», «Miss You» y «Start Me Up» y vinilo de 12 pulgadas.
Los diferentes formatos de The Rolling Stones GRRR! Greatest Hits, son:

50 canciones en un triple 3CD album (50 canciones en un digipack con libreto de 24 páginas y 3CD)
Edición de lujo de triple 3CD con 50 canciones (3CD con 50 canciones en caja de DVD con tapa dura, libreto de 36 páginas y 5 postales.
Super Deluxe Edition Box Set (4CD, 8o canciones más bonus tracks y vinilo de 7″, libro de tapa dura, póster y 5 postales en una presentación a modo de caja.
12"  Vinyl Box Set (5 vinilos de 12″  en una caja de LP).
The Rolling Stones actuaron por primera vez en directo el jueves 12 de julio de 1962, hace exactamente 50 años. Lo hicieron presentados como un nuevo grupo de Rythm & Blues con el nombre "Mick Jagger and the Rolling Stones", en sustitución de Alexis Korner and his Blues Incorporated, de teloneros de Long John Baldry's Kansas City Blue Boys, y cobraron 20 libras.
El valor histórico de aquel concierto de suplencia en el Marquee Club londinense no haría sino crecer a medida que The Rolling Stones iban consolidándose como la banda de Rock and Roll más importante del mundo.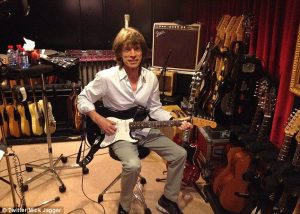 Con motivo de esta fecha tan señalada, hemos querido conocer la influencia de la banda en las personas más relevantes del entorno de Dirty Rock, a quienes agradecemos profundamente su colaboración.
Chuck Berry Jr, hijo de Chuck Berry, la mayor influencia de los Stones, Gay Mercader el primer promotor que trajo a los Stones a España y en sucesivas ocasiones, Willie Nile, Elliot Murphy, Dan Baird, Eilen Jewell, Jonny Kaplan, Javier Escovedo, Share Ross, Walter Daniels, Brett Wolfie, Danny Champ, Ben Ringel The Steepwater Band, The Last Internationale,  Manny Montana, Gay Mercader, Alfred Crespo, Jorge Ortega, Jordi Güell, Sergio Smoking Stones, Rafa Vegas (Rosendo), Diego Hernández (Keiko), Mauro Comesaña (The Soul Jacket), EvilMrSod, Ben Ringel (The Delta Saints), Susan Santos, Fernando Navarro, Pablo Galiano, Nico Álvarez, Javier Vargas, Marcos Coll, Marcelo Champanier, Quique Gómez, Breis, Manel Celeiro, Itziar Temprano, Oscar Moon, Iñaki Estévez, Mürfila, Enric Rivero Armengol, Javier Cosmen, Fredy Christ, Frank Wild Year, Frecho Alva, F.J. Curra, Marvin Green, Carlos Ulises, Lagenda de Tenerife, Roberto Sánchez, Pepe Serna, Nano Barbero, Jes Senra, Jah Ras, Edui Bercedo y Juha Kakkuri.
Al contactar con ellos, algunos nos solicitaron preguntas concretas y se nos ocurrió formularles las siguientes:
¿En qué año o época conociste a The Rolling Stones?
¿El hecho de conocerlos supuso una influencia para ti o tu música?
¿Destacarías alguna canción o disco de The Rolling Stones? ¿por qué?
¿Destacarías algún concierto de ellos?
¿Que piensas que puede esperarse del 50 aniversario de The Rolling Stones?
Articulo de la visita de Darryl Jones, bajista de The Rolling Stones a España y Tenerife con Miles Smiles.
Mesa redonda – coloquio en televisión española con Jordi Güell, coleccionista y fan de los Rolling Stones; Alfred Crespo, Director de la revista Ruta 66;  Carlos Domínguez "Charlie", Bajista del grupo "Los Suaves", que en 1999 actuaron como teloneros de The Rolling Stones en Santiago de Compostela; y Aurelio Morata, Productor musical. El programa fue emitido el 15 de  mayo de 2012 en el programa de televisión española, "Para todos, La 2″.

GRRR! The Rolling Stones announce greatest hits album. The Rolling Stones, ABKCO Music & Records and Universal Music Group are pleased to announce the release of GRRR! by the Rolling Stones on the 12th November 2012 for the world, excluding North America, and on the 13th November 2012 in North America.
Available in five different formats, including a three-CD 50 track version including 50 tracks, and a four-CD super-deluxe version gathering a whopping 80 tracks, the collection tells the fascinating ongoing story of the Greatest Rock'n'Roll Band In The World, from their high octane version of Chuck Berry's "Come On", their first single issued in June 1963, via the thrilling chart-toppers "The Last Time", "(I Can't Get No) Satisfaction", "Get Off Of My Cloud", "Jumping Jack Flash", "Honky Tonk Women" and the perennial juke-box and concert favourites "Brown Sugar", "Tumbling Dice", "Miss You" and "Start Me Up", all the way to the present day with the inclusion of "Gloom And Doom" and "One Last Shot", two new studio recordings recently completed by the group in Paris, France in August 2012.