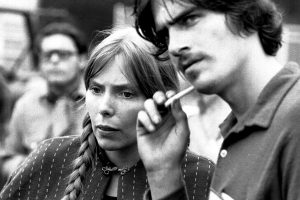 James Taylor, considerado uno de los pilares de la canción de autor norteamericana a finales de los años 60, con ese toque romántico y sentimental, menos ácido que los autores bajo el manto del "Flower Power", Allen Ginsberg o la Generación Beat, nacida en Berkley, muy cerca de San Francisco, cumple hoy 65 años de fuego y lluvia "Fire and Rain".
James Taylor y toda una generación de nombres como Carole King, Jackson Browne, Linda Ronstadt, Joni Mitchell, John Denver, Eagles, Carly Simon o Elton John, bajo el paraguas de Woody Guthrie, Pete Seeger o Bob Dylan, se concentraban en un lugar clave para el despegue, el Club Troubadour en West Hollywood en Los Angeles.
James Taylor y su música se apoyaba más en los sentimientos y las relaciones personales al son del Folk, Rock, Country y Blues, que en la rabia y en los derechos sociales de unos años antes.
Curiosamente el nuevo sello de The Beatles se fija en James Taylor, y el álbum debut del bostoniano se convierte en el primer disco publicado por el sello Apple Records en  1968, contando con la colaboración de George Harrison y Paul McCartney, brota «James Taylor».
Una histórica actuación en el festival de Newport Folk Festival en julio de 1969 bajo una intensa lluvia y álbumes antológicos como «Sweet Baby James» (1970) o «Mud Slide Slim and the Blue Horizon Nº2» (1971), lo convierten en una estrella,
Adicto a la heroína, interno en un hospital psiquiátrico, y canciones como «Fire and Rain», «You've Got a Friend», «Carolina on my mind», «Mexico», «How sweet it is», «Sweet Baby James», «Something in the way she moves», «Country Road», «Steamroller» o «Shower the People», lo convierten en uno de los grandes.
Un documental «Troubadours: Carole King / James Taylor & The Rise of the Singer-Songwriter», refleja y explica perfectamente aquella generación efervescente de cantautores y trovadores surgida a finales de la década de los años 60, dirigido por Morgan Neville.