Un Reportaje Fotográfico de Dirty Rock en Las Palmas de Gran Canaria.
«Wax and Boogie»
Ster Wax y David Giorcelli con Alberto Gulias
Organiza: Sociedad Blues Canarias
Venue: La Guarida del Blues
Fechas: 23 de febrero de 2013
Vídeo: Solange Arocha
Fotos y Texto: Esteban Campos Trujillo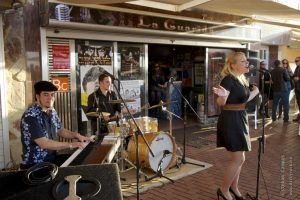 David Giorcelli y Ster Wax volvieron a Gran Canaria casi un año después de su primera visita a la isla. En aquel momento (mes de abril de 2012) David Giorcelli desembarcó en Canarias con su proyecto personal y vino acompañado por Ster, que participó en los conciertos que ofreció David acompañado por los Gumbo Blues Band en varias salas de Las Palmas de Gran Canaria. Además, conjuntamente, fueron cabeza de cartel del espectáculo del Burles Club: "Boogie Woogie". En esta ocasión estuvieron entre nosotros el viernes 22 y sábado 23 acompañados por Alberto Gulias a la batería, que ya compartió escenario con ellos durante su anterior visita a Gran Canaria, con los Gumbo Blues Band.
Ster Wax, David Giorcelli y Alberto Gulias, nos ofrecieron un aperitivo exquisito de Boogie Woogie en la Playa de las Canteras (solo pudimos asistir al concierto organizado en La Guarida del Blues), dejando de lado Nueva Orleans y marchándose un poco más al norte, al St. Louis de Chuck Berry. Wax and Boogie, se lanzaron de lleno a ello. Boogie intenso que nos dejó con la sensación de recorrer paisajes profundos y arraigados en los pantanos del sur, pero teniendo frente a nosotros una playa atlántica. La voz de Ster y los instrumentos acariciados por David  y Alberto terminaron impregnándonos de Blues, Rock & Roll y melodías de Jazz. Ahora, a esperar, hasta su próxima visita.
Las fotografías se corresponden con el concierto ofrecido en La Guarida del Blues en la Playa de Las Canteras de Las Palmas de Gran Canaria.
Si quieres acceder a la galería fotográfica pincha sobre la miniatura de la izquierda o sobre esta línea.
Ster Wax y David Giorcelli cruzaron sus caminos no hace mucho, dando en ese mismo momento rienda suelta un nuevo proyecto junto a Reginald Vilardell a la batería: "Wax and Boogie". Proyecto que vinieron a presentar a Canarias y que ya ha dado su primer fruto, un Cd con 16 cortes, autoeditado, conteniendo temas propios y clásicos con el sello personal de la banda y que se comenzó a comercializar a finales del 2012.
Ster Wax y David Giorcelli con Alberto Gulias: «Reconsider Baby» / «Lost in a Dream» (D. Giorcelli) // Vídeo de Solange Arocha