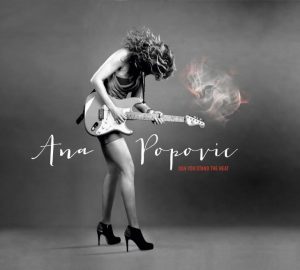 Ana Popović, Blueswoman serbia, y recientemente radicada en Memphis, acaba de publicar su sexto disco de estudio "Can You Stand the Heat", el pasado 16 de abril de 2013, disco que contiene catorce canciones y varios bonus tracks en el que colaboran nombres como Lucky Peterson o Tommy Sims.
"Can You Stand the Heat", de Ana Popović se mueve en las coordenadas de sus anteriores discos Blues enérgico, acoplándolo a arreglos de viento, Soul, Jazz y Funk.

Ana Popović de 36 años, desde muy joven, emigró a Holanda a estudiar Jazz y música, allí formó su primer banda de renombre, Hush, actuando durante la mitad de los años noventa en multitud de festivales por el norte de Europa.
"Hush" supuso en el año 2000 su primer disco en solitario, además de aparecer en un disco tributo a Jimi Hendrix titulado Blue Haze: Songs of Jimi Hendrix, en el que participaron nombres como Eric Burdon, Taj Mahal, Buddy Miles, Double Trouble,o Eric Gales, entre otros. e interpretando "Belly Button Window" de Hendrix.
Solomon Burke invitó a Ana Popović, a abrir todos sus conciertos durante la gira europea en el año 2003, su carrera despegaría definitavemente.
Recordemos que Ana Popović, la recordamos por su participación en la primera edición del Festival Santa Blues de Tenerife en el año 2005, junto a nombres como W.C. Clark & His Texas Band, Tinsley Ellis, Lucky Peterson, y nombres locales como Paco Urbano, SinElefante, Orange Blues y Kábala.
Escucha "Can You Stand the Heat" de Ana Popović.
Ana Popović estará presente con su banda Ana Popovic & Mo' Better Love,  en la próxima edición del New Orleans Jazz & Heritage Festival, que comienza a finales del mes de abril como os hemos venido contando en Dirty Rock Magazine