Paul McCartney, el que fuera líder de Wings, lanzará el próximo 27 de mayo, una nueva reedición de lujo del legendario concierto en directo de la banda «Wings Over America» (1976), concierto ofrecido en Inglewood (California), y publicado en 1976 como un triple disco.
Wings promocionaba en Estados Unidos, «Wings At The Speed Of Sound», su quinto disco de estudio, y el sexto del ex Beatle Paul McCartney en 1976.

La portada de «Wings Over America», corrió a cargo por el famoso grupo de diseño de portadas de discos Hipgnosis, creado a finales de los años 60's con portadas realizadas a Pink Floyd, The Pretty Things, T. Rex, Led Zeppelin, Flash, Humble Pie entre otros nombres.
La portada y diseño de Richard Manning, representa un avión BAC 1-11 a punto de abrir la puerta de la cabina, ese mismo avión fue utilizado para la gira norteamericana con las palabras «Wings Over America» pintadas en el fuselaje.
Escucha «Wings Over America» remasterizado.
Trailer de «Wings over America».
Wings cuando publicó «Wings Over America», causó una disputa entre Yoko Ono y el propio Paul McCartney, por la publicación de cinco canciones de Beatles, Lady Madonna, The Long and Winding Road, I've Just Seen a Face, Blackbird y Yesterday. Al final todo se arregló al comentar John Lennon que ya todo le daba igual.
Escucha al completo «Wings Over America» de Wings.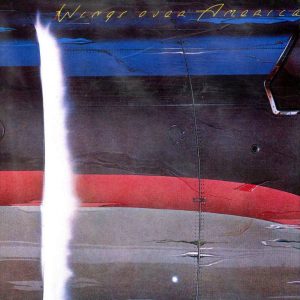 "Wings Over America"  de Wigs, ofrece dos CD's con el registro original y remasterizado, y un tercer disco con algunas canciones grabadas en San Francisco.
La versión de lujo de "Wings Over America", contiene un libro de 80 páginas con fotos de esa gira y el DVD documental "Wings Over The World".
Wings estaba compuesto por Paul McCartney, su esposa Linda McCartney, Denny Laine, Jimmy McCulloch y Joe English.