The Quireboys y los valencianos Babylon Rockets alzaron el poder transgesor de un estilo de vida y género llamado Rock'n'Roll en un Loco Club de Valencia el jueves 9 de mayo completamente lleno de dinamita y sudor.
Babylon Rockets, valencianos, abrieron la noche con su demoledor Rock & Roll lleno de tonalidades y de un directo que llega a rozarte la médula con temas de sus dos discos publicados hasta el momento "Conspiracy" (2008) y "Electric Fuel" (2011), del sexteto compuesto por Dany, Eloy, Rafa, Ivan Hot, Kike y Kiko "Suzuki".
Babylon Rockets sonaron intimidantes y su presencia encima del escenario impresionó, áspero Rock que fue hirviendo poco a poco la sala del Loco Club que presentó una media entrada, unos ciento cincuenta amantes de la buena música.
"Too Much Of A Good Thing", primer adelanto del nuevo disco de The Quireboys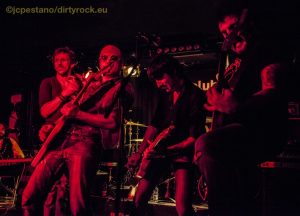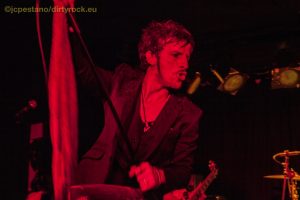 Viendo a Babylon Rockets quedan pocas dudas de afirmar que estamos ante una de las mejores bandas de nuestro país y directo con ese buen puñado de canciones y fuego cruzado con ellas.
Escucha "Beautiful Curse", el nuevo disco de The Quireboys.
Durante el concierto de Babylon Rockets, pudimos ver al bufón y Jack Sparrow, Spike (Jonathan Gray), lider de The Quireboys arrastrar una valija y su bastón, nos sonrió, el circo The Quireboys daría comienzo en unos minutos.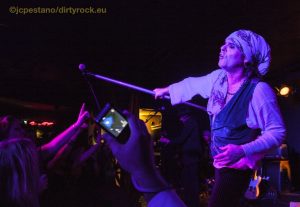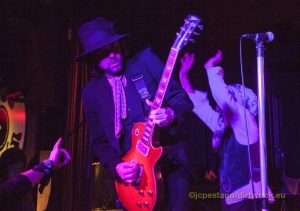 The Quireboys durante hora y media exprimieron todo su repertorio ante una sala que se fundía en sudor, furia y Rock, desentumeciendo músculos y mostrando dos nuevas canciones "Mother Mary", y "Too Much Of A Good Thing", de lo que será el próximo y séptimo disco de estudio "Beautiful Curse", álbum  producido y mezclado por el legendario Chris Tsangarides (Judas Priest, Gary Moore, Thin Lizzy) y que saldrá a la venta el próximo 24 de junio.

The Quireboys ordenaron quitar el aire acondicionado de la sala, dardo envenenado al público antes de meterselo en el bolsillo, querían pasar calor los "coristas" de Londres, aunque ligados a la ciudad del alcohol y la cerveza como es la lluviosa Newcastle.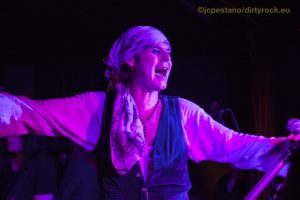 The Quireboys son la respuesta inglesa a The Black Crowes, otra de las bandas infravaloradas por la industria musical y muchos medios de comunicación, continuistas del rock disparatado y espirituoso de The Faces, pero menos canalla que los The Cult, y con vestigios Rod Stewart, Jagger, Reverend Gary Davis y Tina Turner se mostraron durante su concierto en Valencia que no sobrepasó los noventa minutos de duración.
Curioso fue como The Quireboys vendía el setlist de canciones del concierto en Valencia, primera vez que lo vemos en un concierto.
Babylon Rockets en primera fila del escenario enloquecían con los sucios riffs y canciones de The Quireboys, con un Spike más cercano a la voz de lija, rasposa y afónica del escocés de adopción, Rod Stewart.
The Quireboys sobresalientes en Valencia, "It's seven o'clock", que sonó pasadas las doce de la noche en Valencia. Esperemos a su próximo disco "Beautiful Curse", porque esto es Rock'n'Roll, maldita bendición. (Beautiful Curse)
Reportaje fotográfico de Juan Carlos Pestano ©.