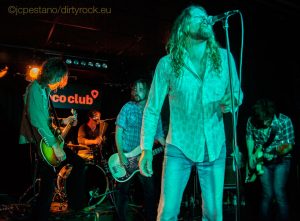 Dirty York se pasaron por Valencia el pasado 6 de junio de 2013, para presentar su último álbum de estudio "Feed the Fiction", logrando cautivar al poco público que se encontraba en el Loco Club, y que tras un par de fallos técnicos con los amplis y demás, no fue excusa para dejarse la piel éstos australianos feroces.
Dirty York te dan lo que prometen, léase Rock and Roll con trazas sureñas, Gospel y Blues pantanoso, además siempre satisfacen y sudan la camisa como el que más, como desmostraron en su concierto valenciano.
Dirty York y su fórmula sureña de atrevimiento e inmediatez no falla en sus directos, imposible que hielen tu sangre, volúmen infernal durante toda la noche, como viene siendo habitual en ellos y una noche que fue in crescendo, magistrales.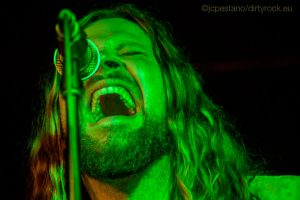 "Feed the Fiction" , el último trabajo de Dirty York es un delicioso y grasiento manuscrito del mejor Rock actual y a la vez eterno, plasmado en doce canciones absolutamente colosales, como bien os hemos contado una y mil veces.
Reportaje fotográfico de Juan Carlos Pestano del concierto de Dirty York en el Loco Club de Valencia el 6 de junio de 2013.