Dirty York, publican «Feed the Fiction», fantástico tercer disco de la banda australiana el próximo 1 de marzo, del que irá acompañado de una gira europea y española, con  fechas confirmadas en nuestro país entre los meses de mayo y junio de 2013.
«Feed the Fiction» de Dirty York es un delicioso y grasiento manuscrito del mejor Rock actual y a la vez eterno, plasmado en doce canciones absolutamente colosales.  Dirty Rock ha podido escuhar su nuevo disco desde hace unas semanas y nos referimos a dos de sus canciones «Speechless» y «Can't Wait to see ya» (sin palabras y os quiero ver ya).
Dirty York se postulan como una de las bandas más importantes del momento, «Feed the Fiction» apuesta a mover ficha respecto a sus anteriores discos, sus espéndidos también «Waiting on St. George» del 2009 y «Say Goodbye to Diamonds» del 2010, dándole los mimbres del  ADN Dirty York, léase Rock and Roll con trazas sureñas, Gospel y Blues del pantano, y añadiendo ahora más importancia a los teclados y a los coros de acompañamiento femenino en muchísimas de sus canciones como en «Be Home and Alive», «Speechless», cobrando importancia esos coros traviesos en «Can't Wait to See Ya», «Free to Find Out», «Never Show» o  la balada final en «See Beyond».
«Stitches in my Pocket», tema inédito de Dirty York para su disco «Feed the Fiction».
Dirty York tras el éxtasis de Rock-Blues & Southern oscuro de sus dos discos anteriores, ahora en «Feed the Fiction» añaden más imágenes de gran fuerza narrativa como en la balada Folk Country «Dollar Bet Man», que nos recuerda su comienzo a aquella armónica de David Bowie en «A New Career in a New Town», y las Stonianas-Humble Pie-Leon Russell sureñas «Thru the Filtered Light», «See Beyond» o «Why I Burn» todas ellas nacidas del fondo de un granero.
Dirty York se ha encargado de alimentar en «Feed the Ficton», a  esa América árida y la magia pantanosa de sabor a The J. Geils Band, Leon Russell y al mejor Ronnie Montrose de Montrose, de la mano de su magnífico cantante Shaun Brown y de sus escuderos Benny James a la guitarra, Justin Rudge al bajo, Luke Teys a la guitarra, Ammiel C. Warner a los teclados y Brett Wolfie a la batería.
«Feed the Fiction» de Dirty York se esgrime como disco radiante, abriendo con la irresistible «Be Home and Alive» con ese juego de armónica, guitarras y coros, auténtico balonazo en la cara, al igual que sus siguientes «Speechless» y «Stitches in my Pocket» con un comienzo casi en castellano, canciones levantadas sobre potentes y elaborados riffs de guitarras, pianos, batería y coros soberbios.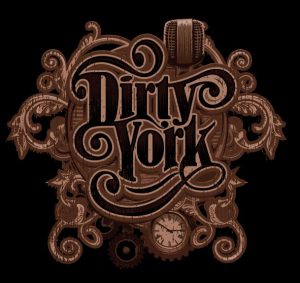 «Can' Wait to see Ya», un magnífico Boogie a modo Gospel con esos irresistibles coros femeninos, dan paso dos fantásticas baladas «Free to Find Out» y «Dollar Bet Man», extraídas de esa paleta Rock Folk Blues Coutry más oxigenada. A partir de eso momento el disco se convierte cada vez más, en contagioso, con las potentes «Keepin' Me Up», «Sweet Sensation»,  y la épica «Never Show» con unas guitarras literalmente echando fuego.
«Thru the Filtered Light», «Why I Burn» y «See Beyond», son las canciones que rematan el nuevo disco de Dirty York, personalmente son mis favoritas, de nuevo tres baladas que equilibran un disco, lleno de canciones sucias y amargas, y en que éstas tres, entran de forma diáfana para imprimir esa caricia final a nuestra audición.
«Feed the Fiction» nos alimenta de eso que está a medio camino de lo fascinante y lo sublime, Dirty York confirman su presencia en mayo en ciudades como en Monzón, Vitoria, Bilbao, Gijón, Liérganes, Burgos, León, Orense, Vigo, y en junio en Madrid, Cádiz, Estepona, Murcia, Valencia, Zaragoza y Barcelona, por confirmar sus fechas en Europa.
Brett Wolfie, batería de Dirty Rock, participó en nuestra serie de entrevistas a músicos y gente del mundo de la música relacionado al 50 aniversario de The Rolling Stones el año pasado y que puedes leer en nuestro enlace, junto a nombres como Charles Berry Jr. (hijo de Chuck Berry), Willie Nile, Elliott Murphy, Dan Baird, Dusty Wakeman, Eilen Jewell, Jonny Kaplan, Javier Escovedo, Walter Daniels, The Steepwater Band, Ben Ringel (The Delta Saints), Share Ross, The Last Internationale, Manny Montana y Danny & The Champions of the World.
DirtyRock.eu, se inspiró en Dirty Work, el álbum de The Rolling Stones, Dirty York, uno de los grupos que actuó en Azkena 2011 y «Dirty Song», la canción de David Bowie.
«Deep Water» de su anterior disco Say Goodbye to Diamonds (2010).
Gira española de Dirty York para presentar «Feed the Fiction» 2013:
23  de mayo, Monzón
24  de mayo, Vitoria
25 de mayo, Bilbao
26 de mayo, Gijón
27 de mayo, Liérganes
28 de mayo, Burgos
29 de mayo, León
30 de mayo, Orense
31 de mayo, Vigo
1  de junio, Madrid
2  de junio, Cádiz
4  de junio, Estepona
5 de junio, Murcia
6 de junio, Valencia
7  de junio, Zaragoza
8 de  junio, Barcelona
«All My Friends Look Like Jesus» de su disco Waiting on St. George.
Dirty York «Feed the Fiction» tracklist:
1 Be Home and Alive
2 Speechless
3 Stitches in my Pocket
4 Can't Wait to See Ya
5 Free to Find Out
6 Dollar Bet Man
7 Keepin' Me Up
8 Sweet Sensation
9 Never Show
10 Thru the Filtered Light
11 Why I Burn
12 See Beyond