«One bourbon, one scotch, and one beer, One bourbon, one scotch, and one beer, Hey mister bartender come here, I want another drink and I want it now»
Siempre recordaré aquella visita al emblemática vieja sala en Japan Town (San Francisco) conocida como el «Boom Boom Room», propiedad de John Lee Hooker una fría noche de invierno del año 2000 en San Francisco, una jovencísima Susan Tedeschi tocaba aquella noche, al cabo de la media hora de concierto aparecía en escena el octogenario «The Boogie man», bajo los acordes de «One Bourbon, One Scotch, One Beer», para acompañar a una de las nuevas damas del Blues y Soul norteamericano.
John Lee Hooker, y su música cumplen cada 22 agosto años, uno de los Bluesman más influyentes de la historia del Rock y especialmente para Van Morrison, Jimmy Page o The Rolling Stones, su gemido y voz profunda, unido a su guitarra con su ritmo profundo y marcado lo hacían uno de los máximos exponentes del Blues rural del Delta del Mississipi, alejándose del sonido eléctrico de Chicago en sus inicios.
John Lee Hooker junto a Muddy Waters y Howlin Wolf son considerados las piezas claves de enlazar el Blues el Rock, que tras huir del pantanoso sur hacia el norte de Estados Unidos a comienzos de los años cuarenta, Detroit, las fábricas de coches, y sucios locales nocturnos serian su nuevo destino, hasta que la suerte le llegaba de la mano del dueño de una tienda de discos de Detroit al ver a un joven pataleando el suelo y contando historias viciosas y oscuras como las de sus héroes Son House o Robert Johnson, eran los comienzos del Boogie de John Lee Hooker.
Hooker al poco tiempo grabaría su primer éxito a finales de 1948 llamado «Boogie Chillen», y que desde sus inicios como otros tantos compañeros de profesión se sentían estafados por la industria discográfica, el éxito no se correspondía con ganancias, decidiendo grabar e incumpliendo contratos con otras pequeñas discográficas, firmando con pseudónimos como Little Pork Chops (Chuletitas de cerdo) o descarados a modo de imitación barata, como John Lee Cooker.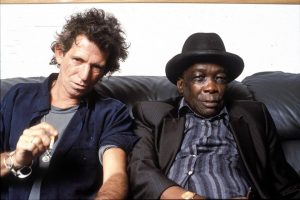 Los fans de John Lee Hooker que por aquel entonces había publicado más de una veintena de discos en decenas de pequeñas discográficas  con nombres diferentes. Los royalties seguían siendo para los sellos: Hooker se vendía barato sin pensar en la sobrecarga de canciones con las que había saturado el mercado y que amenazaban con quemarlo para siempre.
«I'm in the Mood», vendía más de un millón de copias en los años cincuenta, o «Boom Boom» en 1955 dedicada a una camarera de Detroit, dos de sus grandes canciones, el reconocimiento desde Europa con el Britush Invation, su relación con Canned Heat en los 70's, o su disco «The Healer» en 1989 con Santana, Bonnie Raitt o Los Lobos, una noche del 21 de junio del 2001 fallecía a los 83 años de edad mientras dormía.
En el club «Boom Boom» siempre hay una mesa vacía justo enfrente del escenario, guardada para siempre para John Lee Hooker.
«One bourbon, one scotch, and one beer, One bourbon, one scotch, and one beer, Hey mister bartender come here, I want another drink and I want it now».