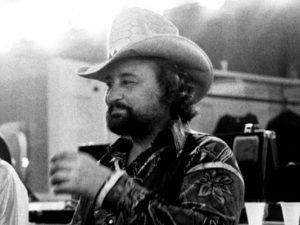 Tompall Glaser, editor, músico con The Glaser Brothers y pionero del legendario estudio de grabación del movimiento "Outlaw"  Country en Nashville, Hillbilly Central,  murió ayer 13 de agosto de 2013 a los 79 años de edad.
Tompall Glaser creó el espítitu "Outlaw", tras obtener una exitosa carrera junto a sus dos hermanos Jim y Chuck Glaser en The Glaser Brothers, llegando a ganar el premio al mejor grupo novel de Country en 1970 e irse de gira con Johnny Cash, todo el dinero obtenido lo invertiría en su sueño, el "Hillbilly Central" en el centro neurálgico musical de la ciudad de Nashville.
Hillbilly Central, era un un viejo edicio de oficinas localizado al suroeste de Nashville en el 916 19th Avenue South, Tompall Glaser invirtió todo su dinero en el sueño "Hillbilly Central" a comienzos de los años setenta como respuesta contra aquella moda que instauró a mediados de los años 60 con la moda del sonido Nashville que templaba la música Country de toda la vida como el Honky Tonk, llegándola a ningunear, y llevándola a terrenos más Pop y músicas más blandas, siendo Chet Atkins la cabeza visible del nuevo sonido Nashville, apoyado por grandes medios de comunicación y discográficas, creando ese movimiento creativo y musical llamado "Outlaw".
Waylon Jennings sería el primero en percatarse de la idea de Tompall Glaser y los estudios Hillbilly Central, donde la revolución del Country tomaría forma a comienzos de los años setenta con Waylon Jennings, el propio Glaser, Kinky Friedman, Billy Joe Shaver, Bobby Bare, Lee Clayton, Leon Russell, Merle Haggard, Johnny Cash, Kris Kristofferson, Jessi Colter (esposa de Waylon Jennings), Sammi Smith, John Hartford, Shel Silverstein, Mickey Newbury y Willie Nelson entre otros.
Cuentan que los estudios "Hillbilly Central" siempre tenían las ventanas cerradas y estaba abierto siempre las veinticuatro horas de músicos entrando y saliendo del mismo, muchas pinballs, legendarias juergas, alcohol en cada esquina y siempre flanqueado Tompall Glaser de dos personas primordiales para el crecimiento de los estudios y del movimiento Outlaw el asesor y gurú en sus tiempos hombre de radio Roger Schutt alias Captain Midnight, y su secretaria .

Escucha "Wanted!: The Outlaws".
"Wanted!: The Outlaws" (1976), el primer álbum de la factoría Hillbilly Central se convirtió en el primer larga duración de la música Country en vender más de un millón de copias, en el que Waylon Jennings, Willie Nelson, Jessi Colter, y Tompall Glaser interpretaban once canciones que cambiarían el signo de los tiempos para el Country.
Tras fallecer Waylon Jennings en el 2002, los estudios Hillbilly Central son comprados por la músico Alison Brown, reconvirtiéndolos en los estudios Compass Records.
"Charlie" el álbum en solitario de once canciones de Tompall Glaser en 1973 es considerado por muchos amantes de la música Country como el gérmen del movimiento "Outlaw".
Descanse en paz Tompall Glaser, another goodbye to another good friend.