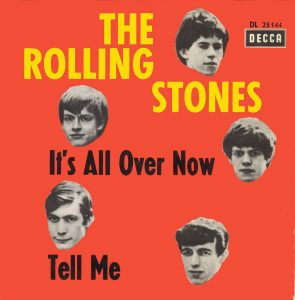 «It's All Over Now», una canción original de los hermanos Bobby Womack y Shirley Womack para su grupo The Valentinos, se convirtió en el primer número uno de The Rolling Stones un 25 de julio de 1964, 52 años después.
The Rolling Stones publicaron su primer single un 7 de junio de 1963, «Come On», una versión de Chuck Berry, la cara B disco,  otra versión de Willie Dixon, «I Want to Be Loved», un año antes, The Rolling Stones actuaron por primera vez en directo un jueves 12 de julio de 1962. Lo hicieron presentados como un nuevo grupo de Rythm & Blues con el nombre "Mick Jagger and the Rolling Stones", en sustitución de Alexis Korner and his Blues Incorporated.
The Rolling Stones tras finalizar su primera gira por Estados Unidos durante todo el mes de junio en 1964, en una entrevista en una emisora de radio en Nueva York, la WINS, con Murray Kaufman, más conocido como Murray the K, escucharon por primera vez «It's All Over Now» interpretado por The Valentinos, grupo del cantante Bobby Womack que pertenecía al sello discográfico de Sam Cooke, llamado SAR Records (Sam & Alex Records).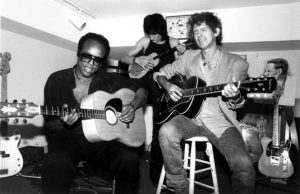 The Rolling Stones tras su entrevista en Nueva York pusieron rumbo a Chicago para grabar en los legendarios estudio de Chess Records, catorce canciones en dos días, entre ellas «It's All Over Now» un 10 de junio de 1964, esa canción aparecería en el segundo álbum de The Rolling Stones «12 x 5 «, con Mick Jagger, Keith Richards, Brian Jones, Bill Wyman, Charlie Watts e Ian Stewart.
Bobby Womack suspicaz ante la posibilidad de que unos jovenes grabasen uno de sus temas, no se lo creería hasta que su canción lograse ser número uno en el Reino Unido y recibiese  un cheque de 250 mil dólares (189.500 euros) por derechos de autor, de parte de The Rolling Stones.
Bobby Womack recientemente hizo una declaraciones sobre Mick Jagger lanzándole improperios desonestos tras colaborar en el disco de sus Satánicas Majestades, «Dirty Work» en 1986. Bobby Womack además participó en los coros de la canción «Moon is Up» de 1994 del álbum Voodoo Lounge.
«It's All Over Now», cuenta como un hombre que manda a tomar a paseo a una mujer debido a su lujuriosa vida nocturna llena de alcohol y fiestas.
Como datos anecdóticos, Bruce Springsteen en una de sus múltiples entrevistas siempre ha confirmado que «It's All Over Now» fue la primera canción con la que aprendió a tocar la guitarra con catorce años. La canción ha sido versionada con magníficos resultados por Grateful Dead, Waylon Jennings o Rod Stewart.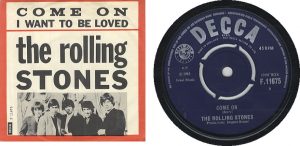 Con motivo de esta fecha tan señalada, hemos querido conocer la influencia de la banda en las personas más relevantes del entorno de Dirty Rock en el 50 aniversario de The Rolling Stones el pasado año con un cuestionario.