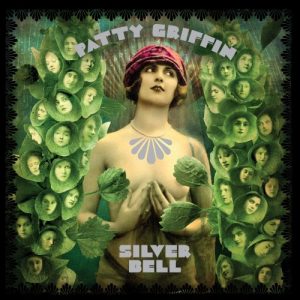 Patty Griffin publica «Silver Bell» el 8 de octubre, un álbum que la grandísima compositora y cantante tejana tenía guardado tras trece años y que nunca vería la luz, producido por Daniel Lanois,  grabado tras su segundo disco de estudio «Flaming Red» (1998).
«Silver Bell» de Patty Griffin contiene catorce nuevas canciones grabadas en los estudios de New Orelans Kingsway Studio, y mezclados por el genio británico Glyn Johns (Bob Dylan, The Beatles, The Easybeats, The Band, The Rolling Stones, The Who, Led Zeppelin, Eagles, Eric Clapton o The Clash entre otros).
Dos de las canciones de «Silver Bell» de Patty Griffin, novia actual de Robert Plant, han sido versionadas por Dixie Chicks en su tercer álbum de estudio del «Home» ( 2000), como fueron «Top of the World» y «Truth #2», Natalie Maines, cantante de Dixie Chicks, incluyó el tema «Silver Bell» en su disco en solitario «Mother» publicado también hace unos meses.
Escucha «Silver Bell» de Patty Griffin.
Patty Griffin publicó el pasado mes de mayo su octavo disco de estudio titulado «American Kid«, contando en el álbum con Doug Lancio a la guitarra y los North Mississippi All Stars, Luther Dickinson, a la guitarra y el batería Cody Dickinson, Luther enseñó a tocar la mandolina a Patty Griffin.
Tracklisting de «Silver Bell» de Patty Griffin.
1. Little God
2. Truth#2
3. Boston
4. Perfect White Girls
5. Sooner or Later
6. What you Are
7. Silver Bell
8. Fragile
9. Mother of God
10. One More Girl
11. Sorry and Sad
12. Driving
13. Top of the World
14. So Long