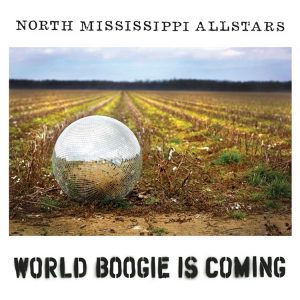 North Mississippi Allstars publican su séptimo disco de estudio "World Boogie Is Coming" el próximo 3 de septiembre y con una gira europea que comienza en España el próximo 9 de octubre en Zaragoza (Plaza de Justicia) 10 de octubre en Madrid (Sala Caracol, 11 octubre Bilbao (Kafe Antzokia), 12 octubre Barcelona (Bikini) y Pamplona (Totem) el 13 de octubre para continuar por el viejo continente los hermanos Luther y Cody Dickinson & Co. hasta el 26 de octubre en Manchester.
"World Boogie is Coming" el nuevo disco de los hermanos Luther Dickinson (guitarrista de John Hiatt, Willy Deville o The Black Crowes desde el 2007 al 2010) y Cody Dickinson.
El nuevo disco de North Mississippi AllStars está producido por ellos mismos y cuenta con la colaboración de Robert Plant a la armónica y de Lightnin' Malcolm, Duwayne y Garry Burnside (hijos de R. L. Burnside), Kenny Brown, Alvin Youngblood Hart, Sharde Thomas, Chris Chew, Sid y Steve Selvidge, todo ellos reunidos en los estudios Zebra Ranch Studios en Coldwater, propiedad de los vástagos de Jim Dickinson, legendario productor y pianista sureño (Willy DeVille, Ronnie Hawkins, Sam & Dave, Aretha Franklin,  Green on Red, Mojo Nixon, The Replacements, Tav Falco's Panther Burns o Screamin' Jay Hawkins, Bob Dylan, autor del sonido de piano en "Wild Horses" de The Rolling Stones en 1969).
Escucha "World Boogie is Coming", el nuevo disco de North Mississippi Allstars.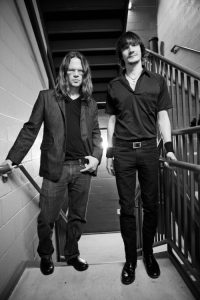 North Mississippi AllStars tras su anterior trabajo "Keys to the Kingdom" (2011), quieren dedicarle el disco a la ciudad de New Orleans, en el que como siempre el juego de guitarras y del  "Lowebow", de Luther Dickinson, instrumento de cuerda cuyo resonador está formado por una caja de puros, más el añadido de esas voces ásperas nos recordarán al oscuro pasado del Delta y el Soul sureño, colaborando en la mayoría de las canciones Luther Dickinson a la guitarra, su hermano Cody Dickinson a la batería, Chris Chew al bajo y Lightnin' Malcolm y Alvin Youngblood Hart, que ya estuvieron en el magnífico álbum de su debut "Shake Hands With Shorty" (2000), puro y duro Blues directo con trazas de Rock, Country, Folk y Jazz.
North Mississippi Allstars en sus conciertos son frenéticamente dulces, intimistas y grandes, como demostraron de nuevo el pasado año en el Azkena Rock Festival 2012 con un espectáculo lleno de guitarras electroacústicas, duelo de solos, largos Jams, y mucho talento, están hecho para el directo.
Escucha su álbum debut "Shake Hands With Shorty".
Tracklist del nuevo disco de North Mississippi AllStars "World Boogie is Coming":
1. Cuttin' Shorty
2. Rollin 'n Tumblin
3. Boogie
4. Get The Snakes Out the Woods
5. Snake Drive
6. That Dog After That Rabbit
7. Meet Me in the City
8. Turn Up Satan
9. Shimmy
10. My Babe
11. Granny, Does Your Dog Bite
12. World Boogie
13. Goin' to Brownsville
14. JR
15. I'm Leaving
16. Jumper On The Line
Fechas de la gira española de North Mississippi AllStars "World Boogie is Coming" 2013:
9 de octubre en Zaragoza (Plaza de Justicia)
10 de octubre en Madrid (Sala Caracol)
11 de octubre Bilbao (Kafe Antzokia)
12 de octubre Barcelona (Bikini)
13 de octubre Pamplona (Totem)