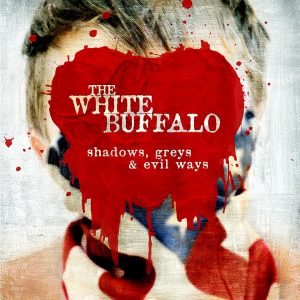 The White Buffalo publica su tercer larga duración «Shadows, Greys and Evil Ways» el próximo 10 de septiembre, tras «One Upon a Time in the West» (2012) y «Hogtied Revisted» (2009).
Tras The White Buffalo se esconde Jake Smith, con esa maravillosa voz luminosa y dramatica, llena de rabia cantándole a la fe y a los hombres muertos, todo ello bañado con muchos banjos, guitarras desbordantes y muchísimo Rock, Country rebelde y Folk.
Jake Smith se hace acompañar con The White Buffalo en sus conciertos de Matt Lynott a la batería y Tommy Andrews al bajo, y en el que su nuevo disco «Shadows, Greys and Evil Ways», es un álbum conceptual basado en la leyenda de Odiseo interpretado en el álbum por Joseph White y su relación sentimental con una mujer llamada Jolene.

«Don't You Want It», nuevo vídeo de The White Buffalo.
La música de The White Buffalo transita entre las armonías de Cat Stevens, Waylon Jennings, Johnny Cash o Eddie Vedder, el de Oregon afincando en Los Angeles desde que debutase en el 2005 con su EP homónimo «The White Buffalo» ha ido edificando el mundo búfalo blanco con esa maravillosa voz desgarradora que te atrapa al primer disparo.
Escucha «Shadows, Greys and Evil Ways» de The White Buffalo.
Sumérgete en la discografía de White Buffalo, no tiene desperdicio.