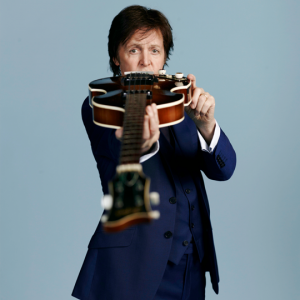 Paul McCartney publicará "New", su décimosexto y nuevo disco de estudio el próximo 14 de octubre, álbum de catorce canciones originales producido por Mark Ronson y en la que presenta su nuevo adelanto "New" del mismo nombre del disco.
Paul McCartney desde el 2007 con su disco "Memory almost full" y la recopilación de versiones en "Kisses on the bottom" (2012), fueron sus últimos trabajos y se presume que llegue también muy pronto una recopilación de los Beatles que incluiría grabaciones realizadas por la banda a mediados de los sesenta para la radio de la BBC y que no han visto la luz hasta ahora.
Paul McCartney ha contado para grabar su nuevo disco "New" con Paul Epworth, ganador de cuatro premios Grammy merced a la alianza tejida con Adele en el último disco de la cantante, "21",  Ethan Johns, colaborador de Kings of Leon o Rufus Wainwright, entre otros; o Giles Martin, hijo del productor George Martin, a quien muchos consideraban como el "quinto Beatle".
Escucha "New" el nuevo disco de Paul McCartney.