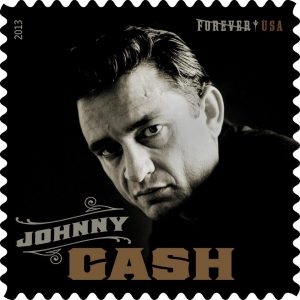 Johnny Cash quedará inmortalizado hoy en el servicio postal norteamericano (US Postal Service), dentro de su serie "Forever Music Icons",  poniendo en circulación un sello conmemorativo del 81 aniversario del nacimiento de Johnny Cash, al precio de 46 centávos. El sello dedicado a Johnny Cash, pertenece a la portada del disco de 45 rpm "Ring of Fire: The Best of Johnny Cash", foto tomada por el fotógrafo Frank Bez en 1963.
El servicio postal norteamericano USPS, además de esta fotografía de Johnny Cash, inlcluirá diferentes instantáneas del cantante en forma de sellos para coleccionistas y público en general a partir de hoy 5 de junio de 2013.
Johnny Cash y la puesta en circulación del nuevo sello en todo norteamérica a partir de hoy miércoles, irá acompañado de una serie de eventos en el reciente museo abierto de Johnny Cash en Nashville, The Johnny Cash Museum, como ya os hemos contado y de un concierto en el templo del Country en la misma ciudad, el Ryman Auditorium con confirmaciones de familiares y músicos como su hermano Tommy Cash y su hermana Joanne Cash Yates, y los músicos Randy Travis, Marty Stuart, Larry Gatlin and The Oak Ridge Boys o Jamey Johnson and The Roys.
Concierto completo del tributo a Johnny Cash en noviembre de 2003 titulado The Johnny Cash Memorial Tribute concert, con artistas como George Jones, Willie Nelson,  Kris Kristofferson, Hank Williams Jr, Larry Gatlin, Jack Clement, Johnny Western, Jimmy Tittle, Sheryl Crow, Laura Cash, Steve Earle, the Fisk Jubilee Singers, Marshall Grant, Travis Tritt, John Mellencamp, Rodney Crowell, Marty Stuart, Kid Rock o Randy Scruggs entre otros.
El servicio postal recientemente editó otro sello de otra gran figura de la música norteamerica, Lydia Mendoza, conocida como "La Alondra de la Frontera", es la nueva imágen de los sellos norteamericanos US Stamps para su serie sellos de edición limitada "Para siempre" (Forever stamps) con la imágen de la espléndida guitarrista de TexMex y Tejano music, como os contamos hace muy poco en dirty rock.