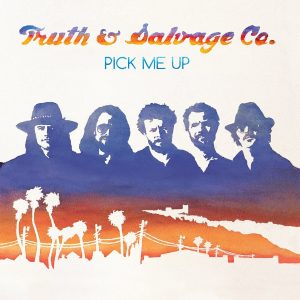 Truth & Salvage Co. publicaron el pasado 23 de julio su segundo disco de estudio "Pick Me Up", tras su anterior y magnífico álbum debut en el 2010 del mismo nombre y producido por el Black Crowes, Chris Robinson, y del que su gira española y europea se canceló en el 2011.
Truth & Salvage Co.,  es un sexteto californiano con algunas raíces desde North Carolina aficandos en estos momentos en Nashville que se prodiga a medio camino entre el Rock, Country, Soul o Southern, hijos bastardos de Eagles, The Band o Poco, y que en muy poco tiempo los mismísimos The Black Crowes se los llevases de gira con ellos para que abrieran sus conciertos y su cantante principal les produjera su primer disco.
Ahora Truth & Salvage Co.,  regresan con un disco de trece canciones realmente apetecible, de nuevo gran juego coral de voces, baladas, pianos y teclados que nos recuerdan a los mejores The Jayhawks, con toda esa calidez y melodías de la costa oeste en "Pick Me Up".
Escucha "Pick Me Up" de Truth & Salvage Co.
"Pick Me Up" fue grabado en los estudios de Echo Mountain Recording Studio en North Carolina, producido por Jon Ashley, y mezclado por Bill Reynolds, bajista de Band of Horses, el disco cuenta con la versión de "Games People Play" de Joe South y Freddy Weller.
Truth & Salvage Co. lo componen Scott Kinnebrew a las voces Tim Jones (guitarra y coros), Walker Young (piano, teclado y coros), Adam Grace (teclista adicional con Wurlitzer y coros) Bill "Smitty" Smith (batería y coros) y Dean Moore (bajo y coros).
¿Gira en España? Muy pronto más noticias.