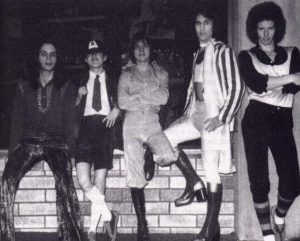 AC/CD actuaron por primera vez en directo un lunes 31 de diciembre de 1973 en el local Chequers Nightclub de Sidney en Australia con una banda compuesta por Dave Evans (voz), Malcom Young (guitarra y bajo), Angus Young (guitarra), Larry Van Kriedt (bajo y saxo) y Colin Burgess (batería) y en el que interpretaron durante aquella fiesta de fin de año su primer single "Can I Sit Next to You Girl", temas inéditos como "Rockin' in the Parlour", "Show Business", "Rock 'N'Roll Singer", y versiones de Chuck Berry, The Rolling Stones, Big Joe Williams y The Beatles.
AC/DC estuvieron tocando durante aquella fiesta de año nuevo en el Chequers Nightclub unas cinco horas, improvisando y haciendo hasta solos de media hora en aquel local situado al sur del distrito financiero de Sidney, local en el que habían actuado desde Frank Sinatra hasta Shirley Bassey.
El valor histórico de aquel concierto de AC/DC no haría sino crecer, a medida que la banda iban consolidándose con nuevos componentes, canciones y discos que harían historia. Los australianos han escrito más de ciento cincuenta canciones para la leyenda, y han pasado por el grupo tres cantantes (Dave Evans, Bon Scott y Brian Johnson) y otros tantos componentes.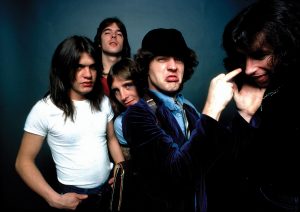 AC/DC han vendido casi doscientos millones de discos, setenta y uno en Estados Unidos, Back in Black 42 millones de copias, siendo el quinto disco más vendido de la historia y durante todo este largo recorrido, los hermanos Malcolm Young y Angus Young han mostrado respeto y demostrado hacia leyendas como Chuck Berry, Jerry Lee Lewis, The Rolling Stones, Little Richard o Led Zeppelin o Muddy Waters, encauzando esa fascinación través de sus riffs, ritmo y música a través de un sistema de sonido brutalmente alto.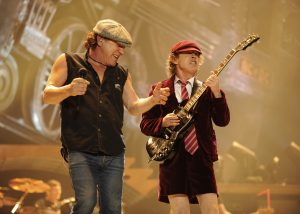 Ambos hermanos Young quedaron impactados unos meses antes de la actuación en aquella fiesta fin de año en 1973, Muddy Waters estaba de gira en el mes de mayo, la idea era recuperar el arte perdido del Rock and Roll, lo primitivo del género y vaya que sí lo consiguieron.
"Black Ice" (2008) fue el decimoquinto último disco de estudio editado por AC/DC, con la consiguiente gira de los australianos denominada "Black Ice Tour" y de la que dirty rock magazine fue testigo en Barcelona la misma noche que Angus Young un 31 de marzo de 2009, crónica de AC/DC en Barcelona que puedes leer clicando en éste párrafo.
Setlist del primer concierto de AC/DC el 31 de diciembre de 1973 en Sidney, Australia.
School Days (Chuck Berry)
Honky Tonk Women (The Rolling Stones )
Get Back (The Beatles)
Jumpin' Jack Flash (The Rolling Stones)
No Particular Place to Go (Chuck Berry)
Nadine (Chuck Berry)
I Want You (She's So Heavy) (The Beatles )
The Old Bay Road
Midnight Rock
Sunset Strip (más tarde conocida como "Show Business")
Rock and Roll Singer
Soul Stripper
Rockin' In The Parlour
Can I Sit Next To You Girl
Baby, Please Don't Go (Big Joe Williams)