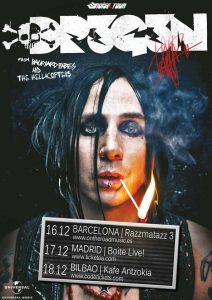 Dregen, ex  de los grupos suecsos Backyard Babies y The Hellacopters presentará su primer disco en solitario "Dregen" en España el próximo 16 de diciembre en Barcelona (Razzmatazz 3), el 17 en Madrid (Boite Live) y el 18 de diciembre en Bilbao (Kafe Antzokia).
Dregen (Andreas Tyronne Svensson),  guitarrista de dos de las mejores bandas suecas de los últimos años debutó en 1994 con Backyard Babies con aquel "Diesel & Power", aquel mismo año se junto con el batería Nicke Andersson (Imperial State Electric) por entonces en la banda Entombed fundan The Hellacopters en 1997 grabando dos discazos "Supershitty to the Max!" (1996) y "Payin' the Dues" (1997) y otro más con Backyard Babies "Total 13" (1997), consiguiendo abrir conciertos para Kiss los primeros en aquel año.

Dregen continuó su carrera musical junto Backyard Babies, logrando la atención de AC/DC para abrir sus conciertos, el asentamiento del rock sueco es más que evidente con bandas como Backyard Babies, The Hellacopters, Peter, Bjorn & John, The Sinners, The Soundtrack, Division of Laura Lee, The International Noise Conspiracy, Mando Diao, The Hives, Sahara Hotnights, Sugarplum Fairy, camino trazado por bandas otroras como The Shanes, Abba, Europe o The Cardigans.
Escucha "Dregen".
Dregen en los últimos años ha colaborado en una serie de concierto y disco junto a Tyla de Dogs D' Amour en "The Poet & The Dragon" (2004) y perteneció a la banda de Michael Monroe (Hanoi Rocks).
En su primer disco en solitario titulado "Dragen" colaboran Danko Jones y Titiyo, hermana de Neneh Cherry, la banda que acompañará a Dragen en esta gira europea que comienza el 1 de diciembre en Escocia es la siguiente, Michael Santunione a la guitarra, Martin Tronsson al bajo y Hux Nettermalm a la batería.