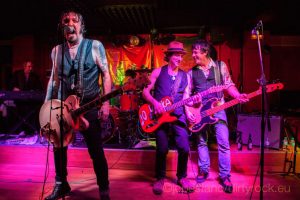 "How Come it Never Rains Valencia!!"
The Dogs D'Amour incendiaron y saquearon literalmente Valencia, la sala Wah Wah ayer lunes 25 de febrero, recibía una y otra vez dinamita y todo el arsenal guitarrero, incluyendo la voz de lija de Tyla, toda la noche invocando a Willy DeVille en su etapa de Mink DeVille, en una de esas noches de Rock and Roll stoniano, que quedará para la historia de la ciudad de Valencia y toda su parroquia roquera.
La botella comenzaba a rodar con la banda StOp, sToP, trío nacional de Glam Rock Metal llena de carisma, actitud y solvencia, liderada por el bajista Jacob A.M. presentando su anterior trabajo "Unlimited" y próximas canciones de su segundo disco, creando himnos de versiones embelesaron a la entusiasta audiencia que poco a poco iba intuyendo lo que se le venía encima.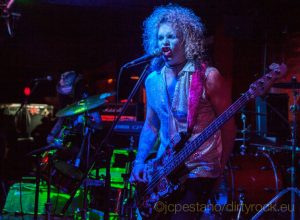 StOp, sToP demostró que son una divertidísima banda en directo, por eso acompañan a The Dogs D'Amour en su mini gira por España por tres ciudades, Madrid, Valencia y hoy Barcelona (Sala Apolo), con Jordi Güell de anfitrión de la banda.
Y llegó el momento de los "perros del amor" en Valencia, tras 22 largos años se vuelve a unir el núcleo duro de la banda, para ayudar a un antiguo amigo músico,  recaudando dinero en una serie de conciertos por confirmar en nuestro país y Europa.
Tyla, Jo Dog, Steve James y Bam salieron a morder para presentar su reciente y nuevo EP de cuatro canciones "Cyber Recordings" (Hotel Haze, Livin' On, Walk Away y Flameboy) y celebrar por todo lo alto el 25 aniversario de su memorable disco "In the Dynamite Jet Saloon", comenzaban a saltar chispas por toda la sala, que estuvo a punto de llenarse totalmente.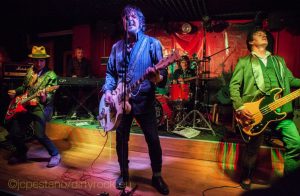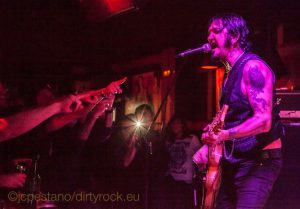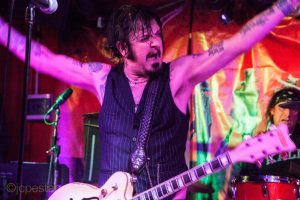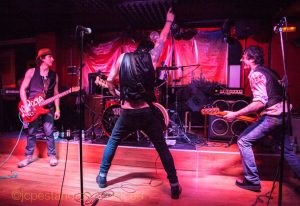 The Dogs D'Amour lograron cumplir las expectativas ampliamente en Valencia, en un concierto y sonido brutal in crescendo, llegando a estallar y saltar pabellones auditivos a diestro y siniestro.
The Dogs D'Amour, no dejaron títere con cabeza, convencen por su facilidad para crear himnos en todas sus canciones y estribillos memorables, auténticamente pendencieron los perros.
Tyla se quitaba la camisa, y dejando su chaleco pegado al sudor de su cuerpo, mientras tragaba de una botella de Cune, dejando para un final realmente eléctrico y atronador sus temas más populares, y coreados por todos los feligreses.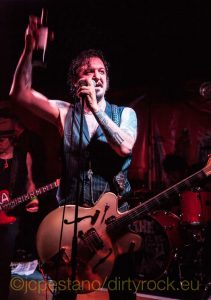 The Dogs D' Amour impecables en Valencia, y noches como la del lunes, dan sentido a la vida y al Rock & Roll de verdad.
"How Come it Never Rains Valencia!!"
Un reportaje fotográfico de Juan Carlos Pestano (Dirty Rock) en Valencia
The Dogs D'Amour
Venue: Sala Wah Wah, Valencia
Fecha: Lunes 25 de febrero 2013