US Rails, el súper grupo de Filadefia formado por sus cinco raíles Ben Arnold (voz, piano, órgano y guitarra acústica de 4 Way Street), Joseph Parsons (voz y guitarra acústica), Scott Bricklin (bajo, órgano, guitarra acústica y voz), Matt Muir (batería, percusión y voces) y Tom Gilliam (slide guitar, guitarra eléctrica y voces) presentan el España su cuarto disco estudio «Heartbreak Superstar» de varios de sus componentes de 4 Way Street y Pistol for Rango, el proximo mes de abril de 2014.
US Rails dentro de la mejor tradición del sugerente Rock Soul Southern Roots Blues Folk de la vieja escuela, invovando a los mejores Eagles, Steve Miller Band, The James Gang, Lynyrd Skynyrd, Steely Dan, The Doobie Brothers, Buffalo Springsfield o Crosby Stills Nash & Young.
El tren US Rails se acercará a España el próximo mes de abril, como diría Antonio Machado, "el tren camina y camina, y la máquina resuella y tose con tos ferina".
Escucha «Heartbreak Superstar» de US Rails.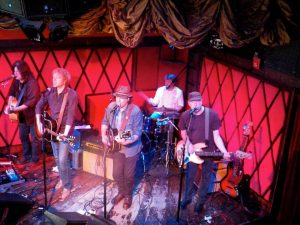 Fechas de la gira española de US Rails en abril de 2014.
20 de abril, Aldea de San Miguel, Bar Cuco.
21 de abril, Avilés, Fiestas del Bollo
22 de abril, Zaragoza, La Ley Seca
23 de abril, Cangas do Morrazo, Salason
24 de abril, Bilbao, Sala Azkena
25 de abril, Madrid, La Boite
26 de abril, Valencia, Loco Club
27 de abril, Barcelona, Rocksound