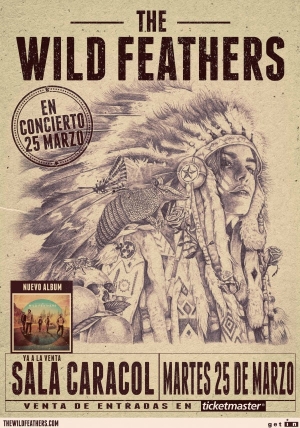 The Wild Feathers debutarán en España con un concierto el próximo 25 de marzo en Madrid, Sala Caracol para presentar su álbum debut homónimo publicado el pasado mes de agosto.
The Wild Feathers son un cuarteto de tejanos afincados en la ciudad de Nashville en el que encarnan perfectamente el Rock & Roll con encarnaciones de Folk, Blues y Country elaborado por Ricky Young, Joel King, Taylor Burns y Preston Wimberly.
The Wild Feathers acompañaron el pasado año a Ryan Bingham durante varios concierto y en julio julio abrieronn para Bob Dylan en el Americarama Festival junto a Delta Rae.
Escucha el nuevo disco de The Wild Feathers
El nuevo disco de The Wild Feathers está  producido por Jay Joyce (Cage the Elephant, The Wallflowers, Emmylou Harris),  tras su despegue definitivo en la última edición del SXSW en Austin el pasado marzo.