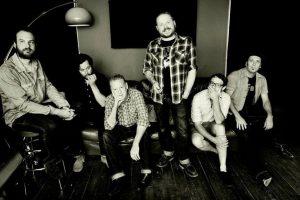 "Prove it All Night!"
Danny And The Champions Of The World anuncian una nueva gira española para el próximo mes de mayo con varias fechas confirmadas, en la que los británicos presentarán uno de los mejores discos del 2013, su cuarto álbum de estudio "Stay True", un decálogo de once canciones fantásticas que rezuman ese sabor a Stax y a toda esa localidad de Muscle Shoals en Alabama, su último disco es una delicia y un claro homenaje al Country, Folk, Bluegrass, Gospel, Rhythm & Blues y Rock.
Danny and The Champions of the World regresan a España tras su anterior gira en enero del 2012 para presentar su anterior disco "Hearts & Arrows", álbum en el que la banda de Danny Wilson solista y alma del grupo, desafió a todos sus aficionados yendo contracorriente. Si para cualquier banda el tercer disco sería la consagración o estabilidad de la misma, Wilson nos sorprendió hacia otros parajes y sueños con destino a cualquier barra de bar de los alrededores de Asbury Park en New Jersey, Indiana, Detroit o Florida.
Escucha "Stay True" el nuevo álbum de Danny and The Champions of the World.
Con "Stay True" el nuevo disco de  Danny & The Champions ocurre lo contrario a su anterior disco, donde la pólvora, la oscuridad, el sueño americano y las montañas se vuelven más esplendorosas gracias a once canciones realmente magníficas.
La actual formación de Danny and The Champions of the World la componen Danny George Wilson (voz y guitarra acústica), Chris Clarke (bajo y coros), Paul Lush (guitarra y coros), Steve Brookes (batería y coros) y Geoff Widdowson (saxo, teclados y coros).
Fechas de la gira española de Danny & The Champions of the World 2014:
28 de mayo en Barcelona, Rocksound
29 de mayo en Madrid, Sala Boite Live
30 de mayo en Liérganes, Los Picos
31 de mayo en Vitoria-Gasteiz, Helldorado (con Swingin´Neckbreakers)
"Prove it All Night!"