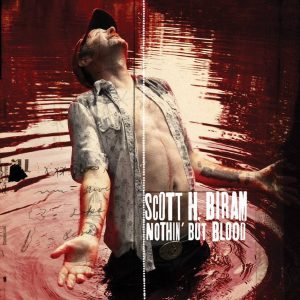 Scott H. Biram retorna y confirma en España su nueva gira para el mes de septiembre, aún con más fechas por ratificar, en el que mostrará su noveno y extraordinario disco titulado «Nothin' But Blood», álbum de catorce canciones publicado el pasado 4 de febrero.
Álbum grabado en su propia casa y en los estudios Cacophony Studios en Austin, Texas y en el que colabora su amigo Jesse Vain en "John the Revelator", tras su anterior y magnífico "Bad Ingredients" (2011).
Scott H. Biram, otro forajido y sucio hombre banda, The Dirty Old One Man Band, como se le conoce a éste hombre, cargado siempre de su armónica y vieja guitarra modelo Gibson ES-125 Hollowbody Archtop Guitar Sunburst de 1959, repartirá a diestro y siniestro Blues de la vieja escuela, Country, Hillbilly y Gospel entre otras malezas, aderezado todo con especias Bluegrass y Rock Clásico alocado, bebiendo de lo más sucio de Lightnin' Hopkins, Bill Monroe, Waylon Jennings y Doc Watson.
Scott H. Biram llegará a España en una segunda gira europea para este año 2014, ya que el próximo mes de mayo arranca su primera gira por países del norte de Europa como Suecia, Noruega y Finlandia. Y en septiembre por Austria, Suiza, Francia, Alemania, Holanda y España.
Fechas aún por confirmar de la gira española de Scott H. Biram 2014:
15 de septiembre en  Barcelona, Rocksound
16 de septiembre en Zaragoza, La Ley Seca
17 de septiembre en Valencia, Loco Club
18 de septiembre en Madrid, La Boite
Escucha «Nothin' But Blood» el nuevo disco de Scott H. Biram