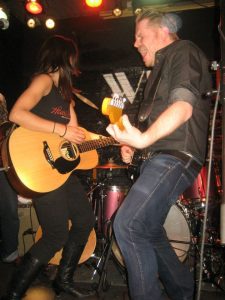 Turbulencias en la comunidad musical, tiempos apasionantes si uno sabe separar el grano de la paja, lo realmente mundano de lo simplemente desechable, Danny and The Champions of the World son esa excepción.
Ante la abundancia de propuestas y la confusión reinante, conviene armarse de escepticismo y agarrarse al sentido crítico. Y ahora más si cabe, en una época en que nada parece ser lo que realmente es, habiendo posturas manipuladoras simplemente para reclamar la atención hacia otros estilos.
Danny & The Champs son pura energía e intensidad sobre el escenario y lo explotan en cada canción, como demostraron el pasado 19 de enero en el Wurlitzer Ballroom de Madrid.
One! Two! Three! … y el concierto explotó con "Ghosts in the Wire". Danny y sus intrépidos, sacados de cualquier película de John Ford, se plantaron al borde del escenario, volumen ensordecedor. Paul Lush a la guitarra, Chris Clarke al bajo y Steve Brookes a la batería, con Rosalie Deighton a la guitarra y coros y 'Free Jazz' Geoff a los teclados y saxo, componen los campeones del mundo.
Hombres y mujeres del Oeste, instalados en el viejo continente, estos Champs van a ser, probablemente, uno de los pilares de rock americano en las Islas Británicas. Ante tal rebose de energía, dotes compositivas y potencial.
A medida que fue pasando el tiempo, el sonido mejoraba y a la vez contagiaba su rock de guitarras y letras con mucha calima que caía sobre nosotros con emoción asfáltica durante las tres primera canciones: "Ghosts", "Hearts & Arrows" y "Soul in the City".
(Fotografías de Mario Rodríguez, Jorge Taús Gómez y Carlos Pérez Báez.)
Con esa maravilla llamada "Colonel and the King", toda la banda y especialmente Danny y el "Sheriff" Paul Lush, se dieron un baño de masas ¡qué manera de tocar! Todos nos acordamos de ese duelo de titanes entre Nels Cline y Tweedy en "Imposible Germany", una interpretación y homenaje al "rey" sin fisura alguna ¡campeones!
"Grab this with both Hands" y "Other Days" fueron las sorpresas de la noche, ya que estarán incluidas en su próximo disco. "Brothers in the Night", "On the Street", "Henry the Van" (del delicioso disco "Streets of our Time"), "Every beat of my Heart" y "Can't hold Back" fueron temas peleados a muerte y fulminados cada uno de ellos con un aquelarre de Hammond, saxo y guitarras.
Prácticamente Danny & The Champions of the World se habían zampado su último disco «Hearts & Arrows» sobre el escenario del Wurlitzer, hacían lo que querían con el público ya entregado. Cuando recibieron ese feedback de energía que habían generado, se crecieron aún más.
"Restless Feet" (del álbum"Streets of our Time") y "You don't Know (My Heart is in the Right Place)» fueron el colofón y éxtasis a lo The Rising.
En su nuevo proyecto, Danny Wilson claramente evoca  idealismo Springsteen, Seger, Mellencamp, Lowe o Petty, crítica social, pero el sueño americano del que habla se encuentra aquí desubicado, muy lejos de su contexto social. Sin embargo, también habla de sentimientos, de su ruptura con la anterior formación, de la dignidad, de la vida, siempre omnipresente.
El encore final dedicado al soul más tierno "Can I change my mind" de Tyrone Davis, y culminando la faena con "These Days" de su primogénito álbum, sus arpegios incontrolados de flechas llenas de sangre, homenajes descarados a Clemons, aducieron a sus "fantasmas" favoritos, Dr Feelgood, Nick Lowe, Thin Lizzy, Springsteen, Al Green, Diamond, Seger, Petty o Elvis. Volumen al máximo, guitarras en alto, c'mon, c'mon, c'mon, c'mon!!
Cuesta explicarlo, pero Danny & The Champions of The World excitaron como si de un orgasmo se tratara, pusieron a prueba los cimientos de Madrid ese jueves. La gente quería más. Recuerdo imborrable.
Como dijo Bruce Springsteen en "Prove it All Night", Danny, Paul, Chris, Steve, Rosalie y 'Free Jazz' Geoff, los campeones del mundo, han trabajado muy duro y lo demostraron esta noche.
La que nos espera con la visita a España de Bruce Springsteen & The E. Street Band.